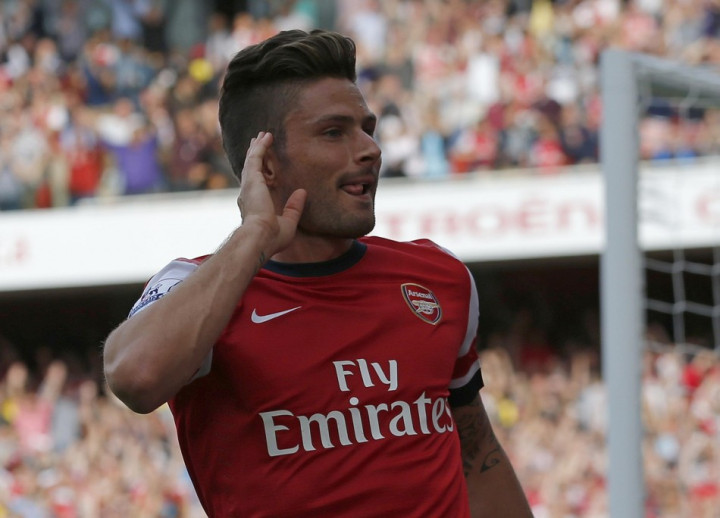 Arsenal manager Arsene Wenger claims Olivier Giroud will appease the Gunners' disappointment of missing out on Gonzalo Higuain and take his side to the knockout stage of the Champions League.
The Gunners were strongly linked with a move for the Argentine striker in the summer. However, Higuain rejected a chance to join the Premier League outfit and completed his £33m move to join Rafael Benitez at Napoli from Real Madrid.
The Frenchman expressed his disappointment after missing out on signing the former Madrid star. However, Wenger remains confident that Giroud could fire Arsenal to the next stages of the Europe's most elite club competition.
"Giroud is already (one of the leading strikers in Europe). I think will he improve and be better in all the aspects of his game. As long as all the aspects are there, the attitude is there as well. At 27, you always think the best years are coming for him now," the Mirror quoted Wenger as saying.
"I am never surprised by the improvement of the players, because that gives you the feeling that we are doing the right things. For him, the jump from Montpellier to Arsenal was quite big. In the first season, it is always quite difficult."
The Italian outfit make a trip to England as they take on Arsenal in the second game of the Champions League clash. Both teams secured 2-1 wins in the first match, with the Gunners registering a win over Marseille while Napoli defeating last season's finalists Borussia Dortmund.
A victory for either side at the Emirates on Tuesday evening could see them take the top spot in Group F.
Wenger heaped praise on the South American's qualities and admitted that he was keen on signing Higuain to provide support to Giroud up front. The failure to land the former Madrid man has seen Wenger deploy his compatriot to lead Arsenal's strike force.
"His movement, anticipation in the box and his reading of the game is very high. We wanted to give some support to Giroud. It is not the best moment to talk about transfers today. He was on the market as you know and several clubs were in for him," Arsenal manager stressed.