Jack Wilshere has singled out Arsenal summer signing Santi Cazorla for praise, with the midfielder insisting that competition for a place in the midfield will only make the side better as they aim to challenge for trophies this season.
In the year and a half that Wilshere has been on the sidelines, Arsene Wenger has made significant changes to the squad, with the likes of Cesc Fabregas, Samir Nasri, Robin van Persie and Alex Song all departing.
The core of the Arsenal group has changed significantly, but Wilshere is excited about the prospect of playing alongside some new faces, and hopes that Cazorla can push him to be an even better player than is expected.
"I think you can see that there's great competition now throughout midfield," he said in a Nike Q&A. "That's what players need - if you're guaranteed a place every week maybe you can just go easy, but with the competition we have at Arsenal in midfield I think it's good for everybody.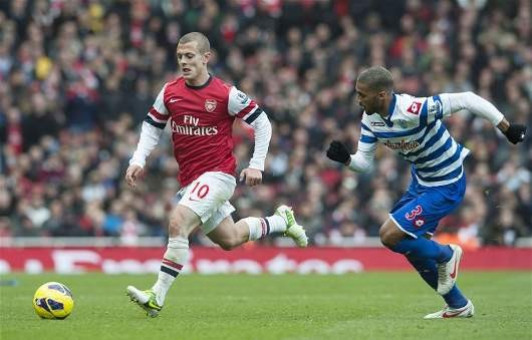 "Looking at partnerships we've got Abou Diaby and Mikel Arteta as well. I've never played with Mikel Arteta and he's been at Arsenal a year, so I'm excited about playing with them."
As Wilshere gets used to being included on the team sheet for Arsenal once more, a host of new faces are becoming more comfortable at the Emirates; Olivier Giroud and Lukas Podolski are also settling into the fold, and Cazorla admitted he hopes to improve even further on his current form as he learns more about the English style of play.
And Wilshere believes that the new signings have gelled well with the current line-up, giving extra praise to their ability to fit in quickly.
"I think you can see already that we're gelling," he explained. "A couple of months ago none of the new boys even knew each other or the rest of the squad, but I think good players just fit in. For example with Cazorla, you can tell he's just a natural footballer so he fits right in."