Arsenal legend Ian Wright has called on the Football Association to address the issue of diving in the Premier League and believes retrospective punishments should be introduced to stamp out the controversial practice.
Manchester United's Ashley Young was at the centre of debate at the weekend after Sir Alex Ferguson admitted the winger "played for the penalty" which helped his side secure a comfortable 4-0 victory over Aston Villa.
Young won a controversial spot-kick for Manchester United when he fell in dramatic fashion under contact from Ciaran Clark after six minutes. TV replays showed there was contact between the pair but Young has attracted criticism from former Arsenal striker Wright for the melodramatic nature of his tumble, which came just a week after a disputed penalty against QPR that earned Shaun Derry a red card.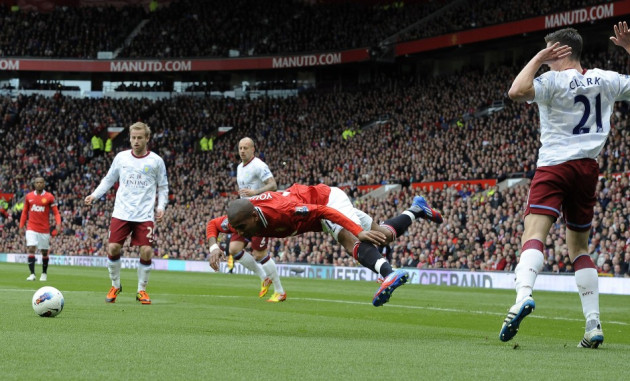 "When Manchester United winger Ashley Young went down for the second week in a row to win that penalty against Aston Villa, my first thought was, 'You're looking for his leg there, mate,'" Wright told The Sun.
"People say it was a spot-kick but I'm not so convinced. If you're going down, you're going down, simple as that. You don't go to ground with your legs flailing like that, trying to accentuate it to that ridiculous extent.
"If it was a foreigner doing it I'd be slaughtering them, so it shouldn't be any different when it's a home-grown player. It's cheating, nothing else."
Arsenal manager Arsene Wenger has implored the FA to introduce automatic three-match bans for divers, and Wright has backed his former boss and called for the introduction of an independent committee to have overall authority on the issue of simulation.
"We have got to take steps to wipe this out of football or - the way it's going - there are going to be raging arguments every week," said Wright.
"What I'd like to see is a committee made up of former players, managers and referees to rule on it. Give them the power to fine, suspend, offer a final warning or whatever each case merits.
"But also put them in front of a camera afterwards to explain how they reached a decision as well."
The idea of retrospective punishments has gathered momentum in recent weeks. First, Shaun Derry failed to have his red car overturned for bringing down Young in the box despite replays showing the Manchester United winger exaggerated the challenge. And then Mario Balotelli escaped a ban for a dangerous tackle on Arsenal's Alex Song.
Wright says the only way to eradicate diving is by handing out extended punishments to the culprits.
"Take the Shaun Derry incident last week as the prime example, when his one-game ban after his red card at Old Trafford - again after Red Devil Young went tumbling - was upheld," added the former Arsenal star.
"Now we all know that judgment was wrong, simple as that. It was a bad decision at the time and it was an even worse one not to overturn the sending-off. But who are the people reaching these conclusions?
"Faceless unknowns who are never called to account over their actions. Just make them answerable for heaven's sake.
"It's a crazy state of affairs, especially when you consider what goes on at every single corner in every single game.
"We have got a great game, getting faster by the year, millions of pounds at stake, yet we still leave ourselves open to accusations of being stuck in the dark ages with all the wrong decisions made."