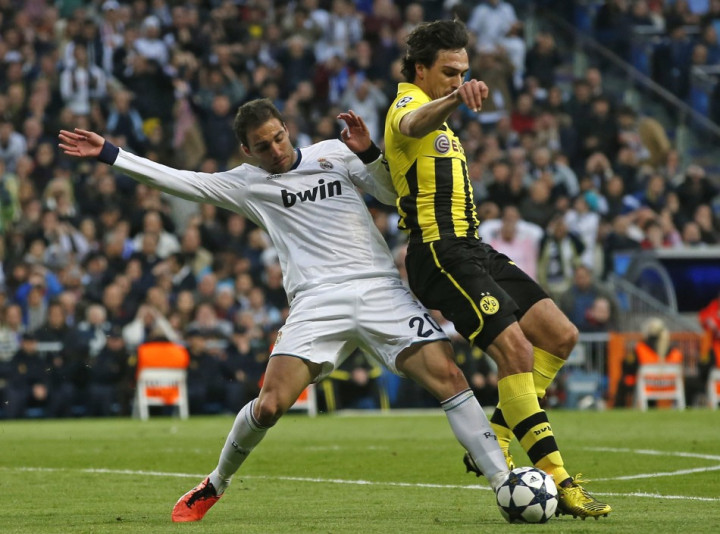 Gonzalo Higuain has given up on the prospect of joining Arsenal and has made the decision to accept Napoli's offer and move to the Serie A, reports in Spain claim.
At the start of the week claims were made by multiple publications that Napoli had bid for the Real Madrid striker, though Carlo Ancelotti insisted no such offer had been put forward.
Now AS reports that the Italian club have had a €37m bid accepted by the Spanish giants, and Higuain has come to the conclusion that Arsenal will not match this this figure and has therefore decided to agree personal terms with the Italian club.
Higuain made it clear at the start of the summer that he wanted to move away from Madrid, with the Argentine often being left on the sidelines for important matches as Karim Benzema was preferred.
His return of 18 goals in 41 appearances last season may not have been spectacular but his impressive performances in previous seasons meant there was plenty of interest. However, Arsenal were believed to be refusing to go above their own valuation of €28m.
Napoli on the other hand have significant funds thanks to the sale of prolfiic hitman Edinson Cavani who joined Paris Saint-Germain for €64m.
While losing out on Higuain will be a blow for Arsenal, the side could yet be handed more pain in the transfer market as the hitman's exit paves the way for Mardid to outbid the Gunners for top target Luis Suarez.
Arsenal have already put in two reported bids for Suarez, but Liverpool are insistent that they will only sell if the right offer comes in for their top scorer.
The Uruguay international himself has stated that it would be a dream come true to move to Madrid, and though Ancelotti has insisted the side doesn't need to purchase any more players, if they lose Higuain they will have a position to fill and €37m in their pocket to spend.
The club have been pursuing Gareth Bale, and though they are still hopeful that a deal will go through before deadline day comes to a close, it does appear that Tottenham will do everything they can to keep the winger on board.
Madrid have been clear that they are willing to break the bank to sign Bale but may well decide that using the money on Suarez is the preferred option as they would be hugely reliant on Benzema next season without Higuain on their books.