Arsene Wenger has heaped praise on Aaron Ramsey and believes the 22-year-old will hit his best form for Arsenal this season.
The Welshman found his stride towards the end of last season and has now continued his good form during this pre-season. The midfielder was particularly impressive in the Gunners' last game against Manchester City in Helsinki, scoring a goal and setting up Theo Walcott for another in a 3-1 win.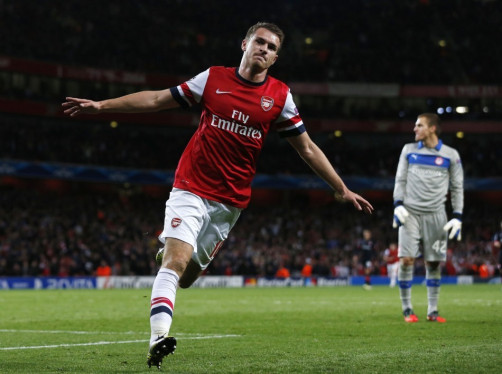 Wenger pointed out that Ramsey, who suffered a career-threatening double fracture on his right leg in February 2010, has improved technically and tactically a whole lot in recent months and has now become an integral part of his side for the upcoming campaign.
"I have always believed in Aaron and I think he has shown again what a tremendous engine and what desire he has. His vision has improved and his tactical aspect has improved a lot. He's growing into a very strong player," the Frenchman told the club website.
Meanwhile, Ramsey stated he is looking forward to Arsenal's Champions League play-off tie against Fenerbahce. Wenger's men visit Istanbul on August 21 for the first leg, before welcoming the Turks to north London a week later.
Ramsey, who scored in the Gunners' 5-2 win the last time the two sides met in Istanbul, says the players are feeling confident ahead of the clash.
"It's obviously going to be a very tough game for us but we did a lot of hard work last season to get into this position so we're looking forward to the test of going there. We had a really good result there a few years back," the player stressed.
"The support there is quite phenomenal and I'm sure they'll be up for it again. But we realise what we have to do and I'm sure with this group of players, we're more than capable of producing a good performance and result," Ramsey added.