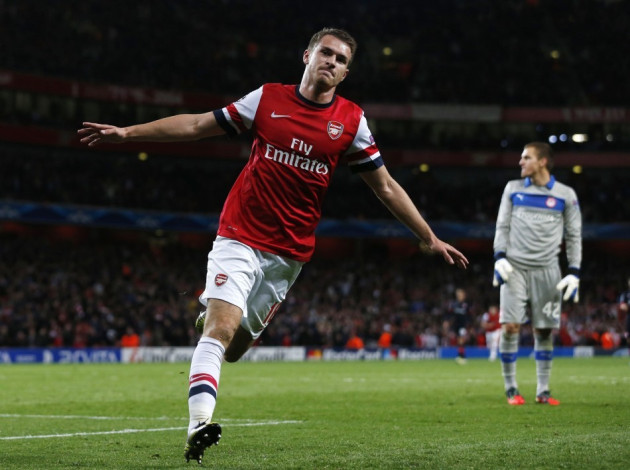 Former Liverpool midfielder Jamie Redknapp claims Arsenal star Aaron Ramsey is showing the traits of the Gunners legend Patrick Vieira.
The Welshman has been in brilliant run for Arsene Wenger's side, scoring five goals and registering two assists in seven games played in all competitions. This includes the winner against the North London side's 2-1 victory over Swansea City.
The Emirates club is enjoying a great run in the league, winning the last five games after their 3-1 home defeat against Aston Villa. Redknapp compared Ramsey's goal scoring abilities to that of the former Arsenal skipper Cesc Fabregas.
"When I used to play against Arsenal, I always used to think about Vieira. Whenever they were in difficulty, the first thing they would do is pop it into Vieira because they knew there was a bit of safety and a bit of calmness about his game. That's exactly what he's becoming for them," the Sky Sports pundit said.
"I think about Vieira and Petit and those big guns and that's what he's doing now. There's a little bit of Fabregas in there as well because he's adding goals. He looks a complete midfielder at the moment."
Redknapp claims the Welsh international is Arsenal's go-to man at the moment. He believes the midfielder has regained his confidence after being on the sidelines for over a year with a horrific foot injury earlier in his career.
"It's early, it's seven games into the season, but I'm seeing a young man who is really growing into himself. Ramsey is their go-to man at the moment. He was outstanding again today and certainly in the second half, he drove the team on."
"He's playing with confidence. Last year when he got into those areas, would he be driving forward? I really doubt it. He would probably back up the play," he concluded.
Meanwhile, Arsenal manager has also heaped praise on Ramsey's form this season.
"He's more confident in front of goal. He was always in the right place in the box but he missed the chances in the past. But this season technically he is better, his first touch is better and he doesn't rush his chances," talkSPORT quoted Wenger as saying.