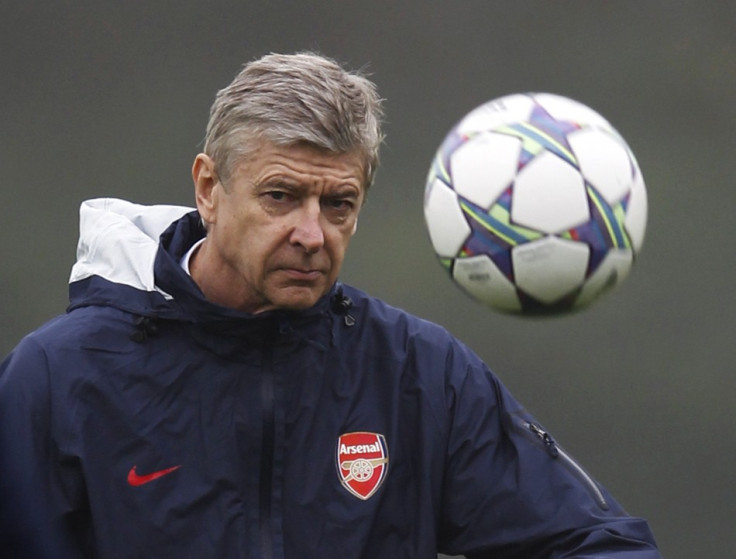 Arsenal boss Arsene Wenger feels the Gunners will provide tough competition to the likes of Manchester United, Manchester City and Chelsea, for the Premier League crown, despite not having financial backing on the same scale as the above three clubs, according to a Goal.com report.
The Gunners have been forced not only to endure a nearly decade long trophy drought but also sit and watch their best players (Cesc Fabregas, Samir Nasri, Gael Clichy and now, possibly, Robin van Persie) tempted away from the Emirates by fatter wage packages and the guarantee of winning titles. Worse still, Wenger's side only just managed to secure a seat in the Champions League this season, leading to fears that their present situation will be so much more complicated should they fail to ensure that minimum next season.
General speculation tends to point to Wenger's unwillingness to spend large amounts of money on signing marquee players as the reason for the trophy drought. Wenger is known for preferring to develop youth players rather than import the readymade article. Unfortunately for him, neither Roman Abramovich at Chelsea nor Sheikh Mansour bin Zayed at City share that philosophy and the spending sprees each has authorised, and continues to authorise, in recent years has only made the situation more difficult for Wenger. Nevertheless, the Frenchman remains confident his club can give their rivals a run for their money.
"Firstly, I must say that not being able to match the spending of the richest clubs does not mean that you can't compete with them on the pitch. When I first came to England, this question did not exist. Every club was run within its resources," the gaffer, now with the club on their pre-season tour of Asia, was quoted as saying.
"We have always spent money because we are ambitious for top-class players and if you look at the history of our last 15 years, we have always had top-class players. It does not mean you can't win the title if you can't compete financially. To spend the money on a top player is defendable. But just to spend the money is like you are worried," he added.
The 62 year old veteran stressed, as he has often done in the past, on the impending introduction of UEFA's Financial Fair Play (FFP) rules, explaining that Arsenal would be one of the few clubs to benefit in that scenario.
"We need first to see how effectively Financial Fair Play can be enforced before we can fully understand the impact but I believe it will make for a more exciting Premier League. If the rules are well introduced, it will be a massive advantage to Arsenal Football Club, of course, and we will be well positioned for that," Wenger was quoted by ESPN as saying.
"I don't want to go into excuses but you want a business to be run properly and I believe that to lose £150 million a year, you don't deserve a lot of credit to win a competition. I think that it is right that you balance your books - to accept the one basic principle for every company - and that's that you can spend the money which you make. That principle just seems to be a common sense and logical one," Wenger concluded.