It has been a difficult few weeks at Arsenal with a 3-1 home defeat to Bayern Munich in the Champions League followed by elimination from the FA Cup by Blackburn and culminating in the loss to Tottenham in the north London derby.
The fans have been left with few reasons to be cheerful but the Arsenal youth side is hoping to deliver a memorable performance that will prove that the club is in safe hands.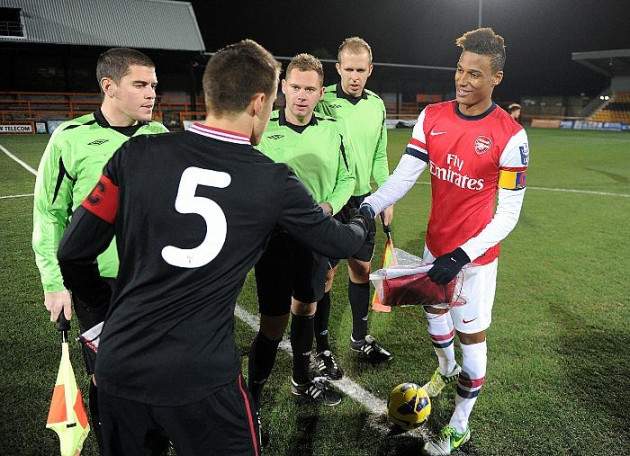 Arsenal's Under-19 side have made the trip to Milan in order to take on Internazionale in the first knockout round of the NextGen series. It will not be an easy task; the Italians are the reigning champions and have already beaten English opposition at home when they won 3-2 back in September.
The competition is seen as a youth Champions League and young striker Zak Ansah admits that the competition provides a good learning curve and the chance to prove you are ready for the first team.
"The competition is different and it is a great experience," Ansah told Arsenal.com. "Foreign teams are good technically, you have to be more patient and tactically aware against them. If you want to progress at this club, you are likely to be playing in the Champions League or Europa League, so it is good to test yourself in these sort of games.
"All the boys are buzzing for the Inter game. It is very exciting to travel around Europe playing in these big matches - it is something I've always wanted to do.
"I look up to the senior players, and at this club we are always in the Champions League so it is nice to follow in their footsteps in some way. It is a good way to prepare yourself for the first team.
"It is a real learning curve, too, because you never know - you could do well in training and the boss could say he wants you in the squad for a Champions League game."
Swiss defender Martin Agha also admitted how much he is looking forward to the challenge of coming up against one of the best youth teams in the whole of Europe.
"Everyone's buzzing," said Angha. "We're all really up for it and can't wait to play in that sort of game. These are the big games where you can test yourself against the best players and I think it will be a great experience for us."
The likes of Serge Gnabry and Thomas Eisfeld have already made the step up from the NextGen side to the first team and manager Arsene Wenger will be hoping that the tournament becomes a breeding ground for future stars.