Arsenal's on-loan striker Nicklas Bendtner has done little to adhere himself to supporters by claiming that Robin van Persie, Cesc Fabregas and Alex Song were right to quit the club.
The Denmark international is currently on a season-long loan at Juventus and has consistently voiced his desire to leave the club in search of regular first team football.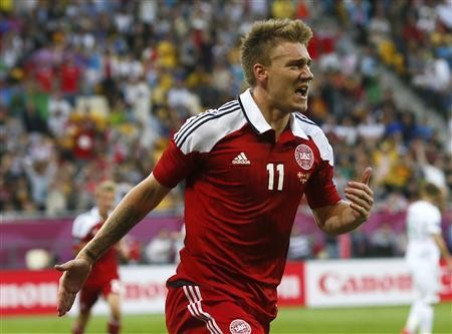 Arsenal manager Arsene Wenger was heavily criticised for allowing the players to leave, with fans especially feeling that Van Persie should not have been allowed to join a rival Premier League side.
However, Bendtner believes that the players had every right to quit the Gunners as the club could no longer match their ambitions.
"From what I'm hearing, some of the players left because they didn't feel Arsenal still had the same ambitions as they did," Bendtner is quoted as saying in the Ham and High.
"I can't blame people for wanting to go to United or Barcelona. Robin has been brilliant since he's been at United. He was the main man as soon as Cesc left.
"He became captain and took the responsibility. Everybody could see he had that ability at Arsenal and now he's improved because he probably thought he could get better at United."
The 24-year-old is also likely to leave Arsenal on a permanent basis but insists that he would still like to play for the club if the right situation presented itself.
"I feel that if I was still there I would be able to compete for a place," added Bendtner. "Despite what happened to me it's still a great club and I still feel for some people there.
"I wouldn't say that I can never ever go back but at the moment it's not on my mind."