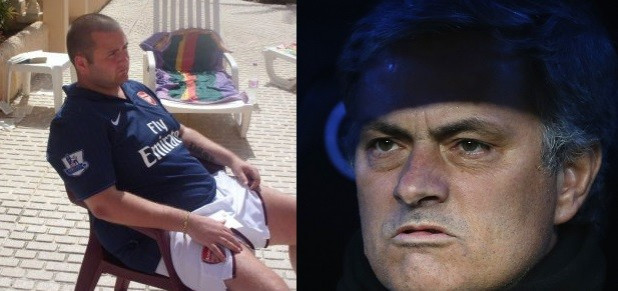 A career criminal who stole more than £100,000 worth of valuables from the penthouse hotel suite of Jose Mourinho has been jailed for 31 months.
Arsenal fan Jamie Filan, 32, burgled the current Real Madrid manager when he and his family were booked into the five-star Wyndham Grand Hotel in Chelsea in March.
After breaking into the room, Filan helped himself to a Cartier pendant, earrings and a ring worth more than £51,000.
The 32-year-old also took a Bulgari white gold watch and earrings worth £30,450, a £14,900 Van Cleef and Arpels gold bracelet, a £2,450 18ct Tiffany white gold diamond cross pendant, a £1,200 computer and a coat worth £1,850.
Filan then packed his loot into a Louis Vuitton bag and walked out, before asking the hotel concierge to book a taxi for him at the front desk.
He was arrested nearly two weeks later after attempting a similar break-in at the Four Seasons Hotel in Hamilton Place, Park Lane.
Southwark Crown Court described Filan as a "professional thief" who almost certainly knew Mourinho was checked into the hotel.
Peter Zinner, prosecuting, told the court: "This wasn't a lucky burglary, there is a very strong inference that the defendant was aware Mr Mourinho and his family were staying in the room and that he specifically targeted it for the rich picking he would have obtained.
"He has a complete cavalier attitude in that he re-offended within two weeks of a major burglary resulting in a significant gain for himself."
The court heard how he already had 19 convictions for 49 offences, 21 of which were for theft. At the time of his arrest, he was on license after being released from a sentence for a domestic burglary carried out in 2012.
He also spent five years in jail in 2007 running over and killing dental nurse Michelle Dever.
Filan, of Peterborough, was sentenced to 31 months in jail after pleading guilty to two counts of burglary.
Upon sentencing, judge John Price said: "This was a planned entry and an expensive hotel suite.
"You talked your way in and you had the nerve to talk your way out with the expensive suitcase, getting the concierge to call you a taxi.
"That's a real professional burglary and you have done it many times in the past. You are a persistent burglar of either domestic premises or hotels.
"You have great expertise and you knew how to get into these places and you did it very cleverly.
"You knew exactly what you were doing."
Filan was also banned from entering any hotel in the City of London and the City of Westminster for five years when released from jail, as part of his licence conditions.