Arsenal manager Arsene Wenger has dismissed comments by Spurs coach Andre Villas-Boas, after the Gunners beat their north London rivals 5-2 at the Emirates. Spurs scored first, through ex-Arsenal player Emmanuel Adebayor, but the Togo international was then sent off for a reckless tackle and the home side went into the break 3-1 up, with goals from Per Mertesacker, Lukas Podolski and Olivier Giroud.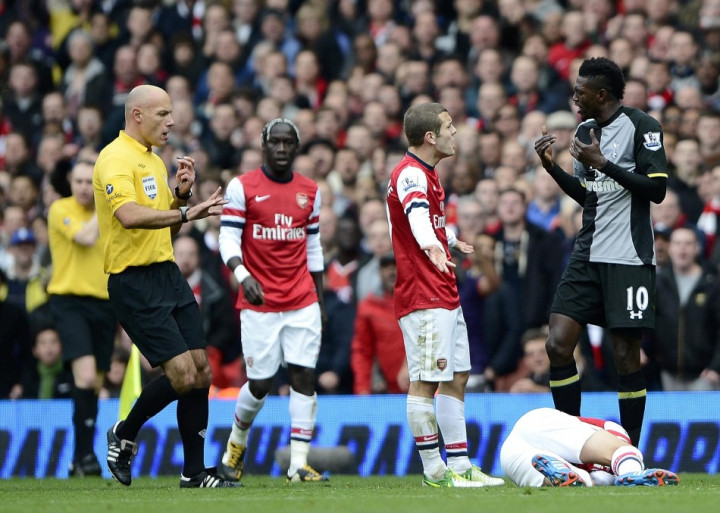 The former Chelsea coach refused to blame his side's defeat on the sending off of Adebayor and also, incredibly, suggested his team controlled the match and played better than Arsenal.
"The scoreline is big for Arsenal but the game wasn't so big. It was big on our side. We were unbelievable today," AVB told BBC Radio 5 live, adding, "So I certainly compliment Arsenal for what they did, but we played with great passion, great ambition and desire. We are very proud."
Wenger was understandably amused at his counterpart's comments and told the club's website that if this result is what is meant by being in control of a football match, he'd be happy to relinquish control in every game.
Meanwhile, Adebayor confessed after the game that he had let his side down, after his bitter-sweet return to his old club.
"I completely understand my sending off changed the entire outcome of the game and I wholeheartedly apologise to my team-mates, the manager and all the Tottenham fans for letting them down," the 28-year-old former Manchester City and Real Madrid forward said. He also stressed his challenge (he was sent off for a foul on Spanish playmaker Santi Cazorla) was not malicious.
The defeat drops Spurs to eighth in the league, with 17 points from 12 games, and it could get worse for AVB before the weekend is over. Martin Jol and Fulham will play relegation-threatened Sunderland at Craven Cottage on Sunday, and if they win, they will move to 19 points and drop Tottenham to ninth. Arsenal, meanwhile, move to sixth, with 19 points. Sam Allardyce's West Ham play on Monday night, at home against Stoke City and will move ahead if they win that game.
Finally, AVB and Spurs were also criticised by former Manchester United defender Gary Neville, who claimed that even the sending off of Adebayor could not excuse the poor performance by the White Hart Lane club.