Former Aston Villa striker Tony Cascarino has urged Arsenal and Arsene Wenger to forget about Liverpool striker Luis Suarez and make a £40m bid for Belgium international Christian Benteke instead.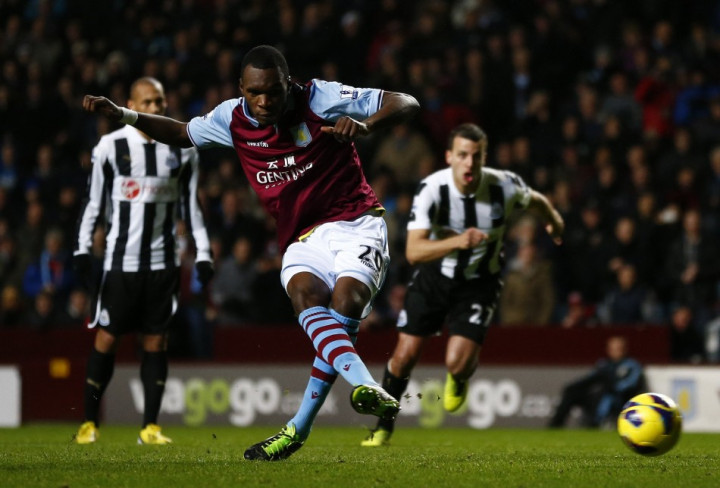 The 22-year-old completed his move to Villa Park last summer and had an impressive debut season, scoring 19 goals in the Premier League. Benteke has started this season where he left off last, bagging three goals in his first two league games.
"If I was Arsene Wenger I'd forget about £40 million for Luis Suarez - I'd bid £40m for Benteke, straight away. At the end of last season I thought he'd be the hottest pursued player of the summer. I keep thinking 'Am I missing something? How no one's bought him?' I don't know," Cascarino told Goal.com.
"Maybe people are worried because he's only had one year in the Premier League, but you only have to look at him. He drives past centre-backs with his pace. The goal he got at Stamford Bridge was fantastic: great touch, great finish. Forget about his pace, his power, his heading ability, that's what he can do. He slaughtered Liverpool at Anfield last season," he added.
Earlier this summer, Benteke handed in a transfer request, and was linked with a move to Arsenal. However, he made a U-turn by signing a long term deal. Cascarino hailed Paul Lambert for handling the striker's situation at the club, but fears there could be further bids for his signature before transfer deadline day.
"You've got to give credit to the club and to Paul Lambert, but I think Benteke deserves a lot of praise. He's not turned up and thought 'I should be wearing a Chelsea, United or Arsenal shirt,'" the former Villa striker said.
"It's fantastic for Villa and their fans that he's still there, but I bet they can't wait until 2 September. I'm gobsmacked no one's moved for him yet, and I still think that by the end of the window, someone will come in with a mad offer for him," Cascarino said.
Meanwhile, Arsenal are believed to be interested in signing Atletico Madrid striker Diego Costa if a move for Real Madrid's Karim Benzema falls through.