Per Mertesacker believes that Lukas Podolski is up to the challenge of joining Arsenal next season, with the striker preparing to make the big move from the Bundesliga to the Premier League.
Mertesacker took some time to adapt to the English style of football, and hasn't played for the Gunners since February after sustaining an ankle injury.
But the defender believes that Podolski will find the transition to Arsenal particularly smooth, with his confidence working in his favour as he joins a side that is hoping to have a place in next season's Champions League.
"I am happy that he is joining us here and I think he is very happy too," Mertesacker told the Arsenal website. "I spoke to him several times and gave good references to this club. He will enjoy his time here.
"Some things are different in Germany to this club, especially here at the training ground. You have no press, no supporters around here and you can concentrate on training.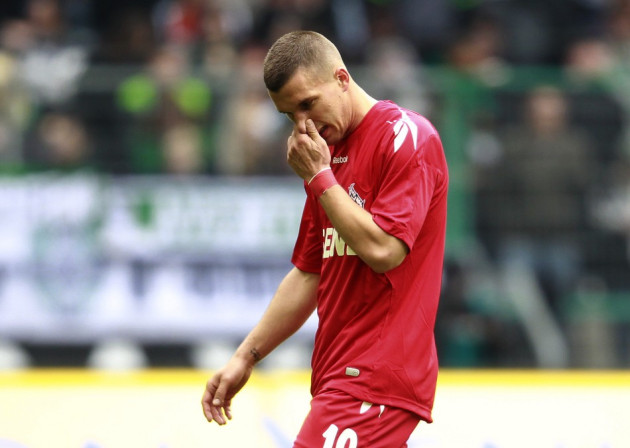 "It is very calm here and that is a good thing, especially for him because he is very famous in Germany and has played very well in the last big tournaments for them. He is very popular and that can sometimes be dangerous because everybody is putting pressure on him.
"But here you can concentrate on yourself and on your team. This is a great place for him to develop his performances as a footballer and a person, like I have in the last year."
Podolski has been particularly effective for Cologne this season, and the striker contributed a higher percentage of goals to his team than any other striker in the German or English leagues.
To achieve such a feat, Podolski has been compared to Robin van Persie's contributions for Arsenal. And he will no doubt be a much-needed support network for the prolific striker, if van Persie stays at the Emirates next season.
The move to confirm Podolski's signature before the summer shows an intent by Wenger that wasn't so present last season; while he fought hard to keep Samir Nasri and Cesc Fabregas until the last month of the transfer window in 2011, this time around the Arsenal manager looks to be preparing early to shore up targets who can either provide support for his current players, or act as replacements should they leave.
Yann M'Vila is also widely believed to be in talks to sign a deal with Arsenal, though the club are yet to confirm a deal for the defensive midfielder.