Arsenal are tracking Bayer Leverkusen midfielder Lars Bender. The Mirror believes the north London side will offer a bid in excess of the £19m that was rejected two months ago. It is hoped this will be enough to persuade the Bundesliga club to release the highly rated 24-year-old midfielder.
It is believed the German international will arrive as cover and eventually replacement for Spaniard Mikel Arteta. The former Everton midfielder is sidelined with a thigh injury and could miss up to six weeks, according to the Mail Online.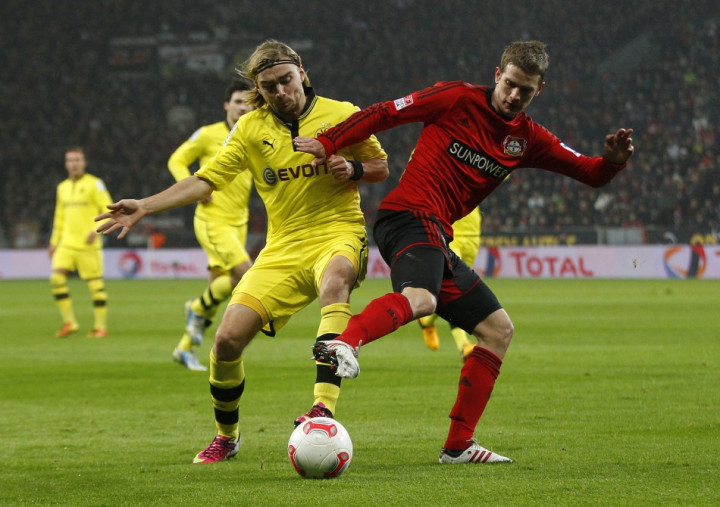 Arsenal have frustrated fans this summer with very little by way of signings and squad improvement. The Gunners are believed to have in excess of £70m to spend this transfer window but Wenger has repeatedly claimed that while he is ready to spend he does not see value for money players available.
So far, the only signing made is France U21 International Yaya Sanogo on a free transfer. Failed targets include former Real Madrid striker Gonzalo Higuain, Brazil midfielder Luis Gustavo and Everton star Marouane Fellaini.
Bender made 32 starts in the German league last year and had a hand in nine goals for his club. His performances in the centre of the park helped Leverkusen to third in the championship and there lies the first of two major problems for Wenger.
It remains to be seen how willing Bender will be to trade Leverkusen for Arsenal given the former qualify directly to the group stages of the Champions League. Arsenal, meanwhile, must negotiate a very tricky two-leg qualifying tie against Turkish giants Fenerbahce before they can achieve the same target.
And given the extent of injury worries that now plague the Gunners, following a disastrous 1-3 home defeat to Aston Villa after the first game of the 2013/14 Premier League season, Wenger's Champions League group stage dream is in jeopardy.
And should that happen, it is almost impossible to see Bender join the club. Wenger remains confident that he can achieve his season's target without new signings, an attitude unlikely to ease his fans' concerns.
"If we don't spend the money, it is because we don't find the players. I am not the only one to work on that, we are a team that works on that and we are ready to buy the players if we find the players good enough for us. We take our work seriously and we analyse every player in the world and spend 24 hours a day doing that. We are ready to spend, but until we buy players we have to win football games," Wenger said.