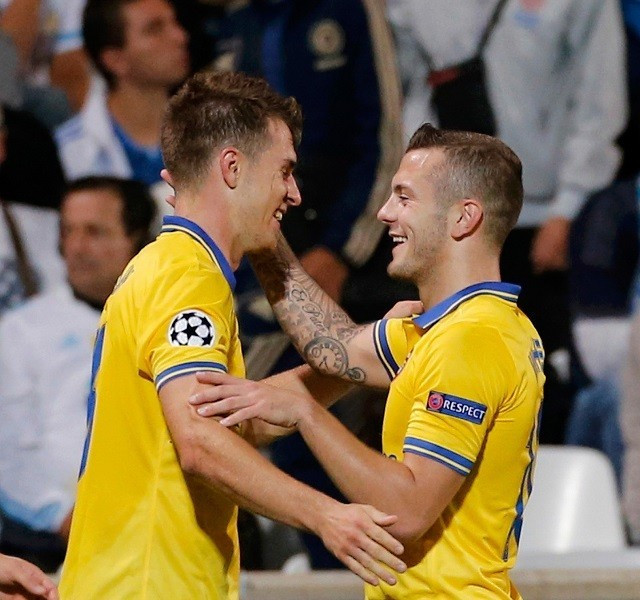 Jack Wilshere still harbours hope of playing alongside Luis Suarez for Arsenal after the Gunners missed out on signing the Uruguayan last summer.
The Gunners will face Liverpool for the first time after their altercation in the previous transfer window where the north London club had a bid worth £40m plus £1 rejected for the Uruguay international. Both teams have done very well so far in the Premier League with the Gunners currently top of the table while Liverpool are third, joint on points with Chelsea.
Wilshere dominated the back pages with his goal against Norwich City where intricate touches between him and Olivier Giroud culminated into the perfect team goal. The Gunners have an abundance of riches in midfield with Mesut Ozil, Santi Cazorla, Tomas Rosicky and Aaron Ramsey all capable of moments of brilliance that can turn a game on its head. However, Wilshere believes that the addition of Suarez would have given them something extra and took them further to challenging for the title yet again.
"He's a great player. If I sit here and say we don't want him I'd be lying. A club like Liverpool should be playing in the Champions League. Suarez should be too," Wilshere said.
The England international expressed his admiration for the partnership between Suarez and Daniel Sturridge but believes that their defence is good enough to keep them out.
"They've been great this season. Suarez especially has been really good. He and Sturridge link up really well. But our defence has been good recently," he explained.
Wilshere also expressed his admiration for the squad and insists that this is the best bunch of players he has ever had. He also praised Mesut Ozil and insists that the German is the best player he has ever played with in his career.
"If you look through the league we have the best starting 11 player for player. People question the squad. In midfield and at the back we have to switch on. But this is the best team and the best start I've ever had. He's [Ozil] the most talented player I've ever played with. He's the most natural player and when you have that sometimes it does make all the difference," Wilshere said.