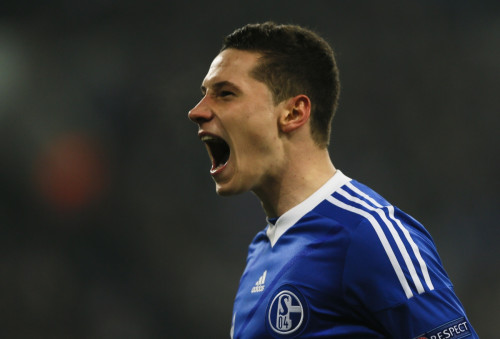 Arsenal are on the brink of sealing a deal for Julian Draxler after the Gunners had a breakthrough in talks with the Schalke management over allowing the player to leave in January.
The Bundesliga club have denied being in contact with the Gunners, but the Mirror believes that a breakthrough has been made and the Gunners will complete the signing before the end of the transfer window.
The German is willing to leave during this window and join the likes of Lukas Podolski, Mesut Ozil, Per Mertesacker and Serge Gnabry in the Arsenal ranks where he will also get a sizeable hike, from his current £45,000 a week salary to £80,000 at the Emirates. The Telegraph reports that a provisional fee of £36m has been agreed between the two clubs.
The midfielder has been cleared to play in only seven days and should he arrive at the Emirates, is likely to make his debut against Manchester United or Liverpool in the next few weeks.
The Gunners are determined to get the deal done before the window, with the north London club stricken by a lot of injuries including a season ending one for Theo Walcott, who has ruptured his anterior cruciate ligament.
Aaron Ramsey has suffered yet another setback and is expected to be out for another four to six weeks, which has forced Arsene Wenger's hand in the transfer market.
Meanwhile, Mikel Arteta believes that the Gunners can cope with the number of injuries to key players and tide through what is expected to be a very tough period for the Gunners amid games against Manchester United and Liverpool in the run in.
"We had many options but that is one problem we've had in the last few weeks: we've had a lot of injuries, [such as] losing Theo for a long time, Oxlade-Chamberlain is just coming back, too many," Arteta told www.arsenal.com
"Rosicky as well was out for a couple of weeks with his nose so we are a bit short at the moment but hopefully we can get people back. That happens and we have to deal with it. The schedule is really busy now - we have some really tough games coming up in the next few weeks and we have to deal with it and do our best," he concluded.