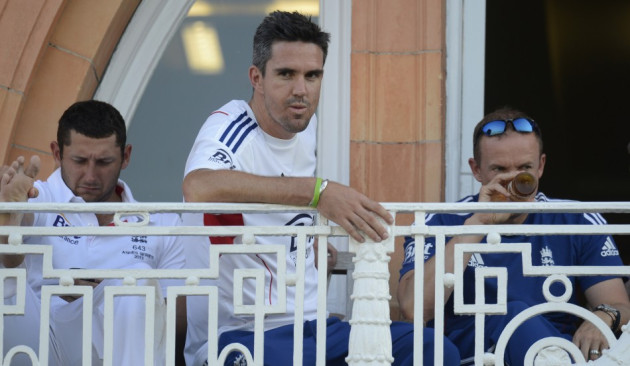 When Australia were embarrassing England with such unerring regularity during the 1990s, one would have given anything to be a sports fan down under. Sure we could laugh at their unreconstructed chauvinism, cultural bankruptcy and non-ironic moustaches, but geez, we thought, being an Aussie sports fan must be pretty sweet.
How gleeful and elated the Australian fans must have felt as they discussed the cricket over a barbeque, or in the living room as they sat down as a family to watch Neighbours every evening. How they must have celebrated as Slater belted Malcolm for 57 runs in an over, or McGrath made Atherton look about as composed as Eric Pickles on a pogo stick.
Now we know how they felt all those years. And to be honest it's not great, is it? The sort of feeling you get watching a python eat a mouse, or one of those freakishly over-sized 12-year-olds score a try in a school rugby game. There's no fun in witnessing a humiliation, particularly one as self-inflicted as Australia's at Lord's.
Whereas once it was the English batsmen who threw their wickets away in ever more weird and wonderful ways, now it is the Australians' turn to besmirch themselves with willow in hand. Chris Rogers' lbw in the second test must rank among the weirdest dismissals in the history of the game - the batsman missing a full toss, taking the ball in the groin and failing to review, even though it would have missed the stumps. Marketers may describe the Ashes as sporting theatre, but this was like one of those god-awful am dram productions where the leading lady forgets her lines and the set falls apart during the curtain call.
How Michael Clarke, who made his Australia debut alongside Ponting, Langer and Gilchrist, must wince at the names alongside his in today's batting line-up. Rogers' opening partner Shane Watson is a real-life Johnny Bravo, a gaffe-prone musclehead whose blazing ego only draws attention to his brainless self-destruction. The captain is sandwiched between Phil Hughes, who makes Jonny Bairstow look like a paragon of classical solidity with his wonky technique, and Steve Smith, whose default expression at the crease is a mixture of surprise and horror, like a holidaymaker who touches down in a far-flung country only to realise he left the front door open and the bathwater running.
In fairness the Australian bowlers are tidy enough. Peter Siddle is hewn from the same indefatigable rock as Merv Hughes and Glenn McGrath, while the youngsters Mitchell Starc and Ashton Agar are sure to improve. However none of the bowlers, for all their admirable qualities, are good enough to compensate for the deficiencies of their batsmen. In fairness those batsman are so weak that, even if Clarke was able to field a bowling attack of Curtly Ambrose, Malcolm Marshall, Fred Trueman and Shane Warne, all at their peak, it still wouldn't be enough.
In the past, England have had to touch new peaks of excellence to beat the Australians, driving their fans to exhilaration in the process. But the hosts haven't even had to play well to win the first two tests. In fact they have often played downright badly, bowlers (well, more specifically, Steve Finn) spraying it everywhere while batsmen throw their wickets away with the sort of shots that will make Graham Gooch's hair fall out all over again. Daring, heroism and virtuosity have been in painfully short supply, and so it's hard for us, as fans, to get too excited.
With the next test already looming on the horizon, many English fans will be hoping the Australians can raise their game and create some sort of contest. But, given the visitors have lost each of their last six tests and are rumoured to be riven by internal feuds, another green and gold farce looks likely. Watson and Rogers, the pantomime donkey at the top of the show, will no doubt be torn asunder by Anderson once again, and the performance will follow an all-too-familiar script thereafter. Perhaps Billy Cooper, back from exile, could play something appropriate; Carry On and Faulty Towers spring immediately to mind.
As English fans we'll probably laugh at Australia's next collapse; we may even cry, depending on how ridiculous it is. But it won't be truly satisfying, the way it was in England in 2005 or in Australia in 2011. In fact, the way things are going, we may be soon be longing for the golden days of Warne, McGrath and that booze-sodden Aussie hubris which provide a soundtrack to our cricketing lives twenty years ago.