Christian Benteke's agent has suggested the Aston Villa forward would be open to a summer switch to Atletico Madrid.
The sought after Belgian has indicated he may be on the move this after his 19 Premier League goals helped Villa avoid relegation last season, suggesting he will not let the club stand in his way if an offer comes.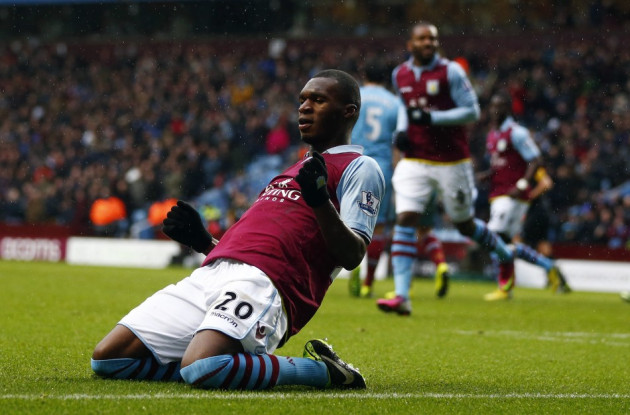 After mentioning Arsenal as a possible destination, the 22-year-old would also consider a move to the Copa del Rey winners Atletico, according to his agent.
"Benteke always wants to improve," Kismet Eris said, ESPN report. "Without a doubt he wants to play in the Champions League. The interest is flattering. At the moment there is no offer, but if Atletico put a proposal on the table of course we would study it."
Despite securing a spot in the Champions League in addition to their domestic success, Atletico are likely to lose their talismanic forward Radamel Falcao this summer, as Chelsea, Monaco and Real Madrid cast envious glances upon the Colombian.
A move away from the Vincente Calderon would leave the club in need of a proven goal scorer to fill the vast void that would be left by Falcao, a position Benteke could certainly fill.
Although the Belgian international has previously vowed to repay the faith Paul Lambert showed in him when he signed him from Genk last summer, the striker now appears keen on a move. While Villa remain desperate to keep the man whose goals arguably kept them in the top flight, it would appear a move away from Villa Park could beckon.
"If Aston say I must stay, I won't necessarily accept that," Benteke is quoted as saying in The Sun." I do not want in any way to feel I didn't get the most out of my career. I try to get everything.
"Of course playing the World Cup in Rio is in my head. But I have no fear of falling out of the team. There is no point in me getting into a tug-of-war with Villa."
"If the chance comes up for me to join a club like Arsenal, I'm convinced we can reach a compromise where everyone comes out a winner."
Having signed the powerful forward for £8 million last summer, Villa could expect to double their money at the very least this summer, should a move transpire.