Bansky Work The Banality of the Banality of Evil Fails to Set New Auction Record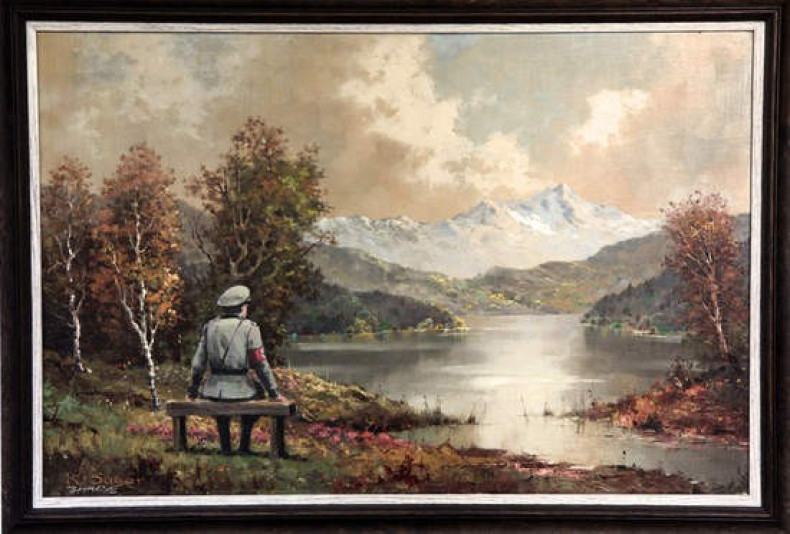 A painting worth almost nothing until the artist Banksy painted a Nazi soldier on it has sold for more than $600,000 at auction.
'The banality of the banality of evil' was snapped up by a bidder named 'Gorpetri' online, last night. The sale made the new Banksy artwork into the second most valuable piece by the British artist.
Before being vandalised by Banksy, the unremarkable landscape oil painting was on sale in a New York charity shop with no hope of making even a hundredth of its eventual price.
He purchased the depiction of a rural autumn scene and then added a sitting Nazi officer, before handing the painting back to the shop with his signature on it.
The $615,000 price reached by the piece on the website Biddingforgood.com failed to set a new record for a Banksy work. That title remains with 'Slave Labour,' a wall mural which fetched £750,000 earlier this year.
It went under the hammer in Covent Garden amid anger in the local community from which it was removed. In contrast, the sale of 'The Banality..." is likely to be less controversial, with proceeds to be donated to charity.
Housing Works, which sold Banksy the undoctered painting for considerably less than £615,000, works to combat homelessness and AIDS in New York.
Spokesman for the charity David Raper said: "Housing Works cannot express how fortunate we feel to have been a part of the Banksy residency in New York. The generous donation of his artwork will allow us to do so much good for our clients dealing with the dual crisis of homelessness and AIDS that still plagues our city streets."
'The Banality...' formed part of a month-long New York residency by the artist which is now drawing to a close.