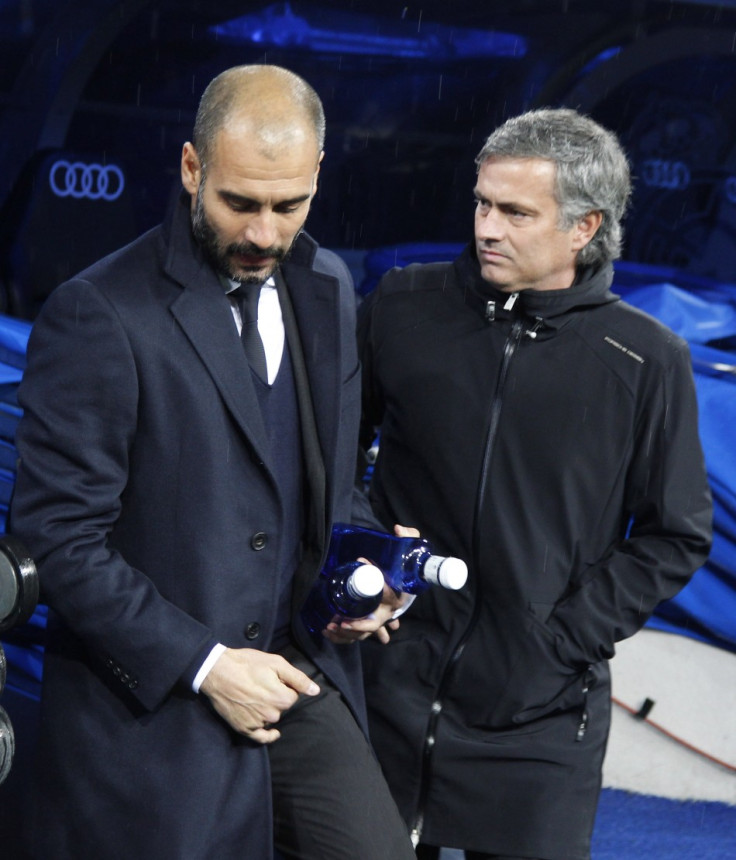 Real Madrid boss José Mourinho said Pep Guardiola's decision to quit as Barcelona coach at the end fo the season will have no effect on his team or the way they play, in his first public appearance since Guardiola's announcement. Mourinho also added that the Spanish manager's decision should be treated with respect.
"The Guardiola case is a personal decision. It's his, he is the one who knows, he is the one who knows why, he is one who has to comment on it, he is the one who has to do what makes him happiest at any given time," the Guardian quoted Mourinho as saying.
"I have been a coach for 12 years and for me I will be annoyed in June when I don't have any matches as I will miss training and playing, playing and training. But everyone is the way they are and you have to respect and accept that and hope that they really do find enjoyment because the most important thing in life is to enjoy it. If for him enjoying life means withdrawing from football for a while then so be it and I send him a hug," he added.
The 49 year old Portuguese, whose side are close to clinching their first La Liga title since the 2008/2009 season, feels the exit of Guardiola, who helped Barcelona win thirteen trophies, including two Champions League titles, in his four years as manager, would not benefit Real Madrid in any way.
"I don't know why it would benefit us. Real Madrid is Real Madrid, Real Madrid will continue along its own path, Real Madrid has its own decisions to make," the Daily Mail quoted Mourinho as saying. In addition, he also added that his own decision to continue with Madrid, despite earlier speculation that Guardiola could leave, was an entirely different one.
"My decision to continue at Real Madrid has nothing to do with who is the coach of any other team. It doesn't appear to me that Barcelona has people on its board of directors without talent, quite the opposite. If they have decided that Vilanova is the ideal person to be the next coach for sure they are doing it with conviction," he added.
Meanwhile, in more signs of upheaval at the Santiago Bernabeu, Mourinho is reportedly looking to remove former Madrid star Zinedine Zidane from his post as Sporting Director, at the end of the season, according to a Goal.com report.
The Former French midfielder was appointed to his post at the start of the season after he returned to the club he retired from, in 2010. However, he has apparently not lived up to Mourinho's expectations.
The Portuguese manager has the full backing and support of the club president, Florentino Perez and given that he was successful, in the past, in arranging the dismissal of former General Manager Jorge Valdano, Zidane's second coming at the Bernabeu may be short-lived.