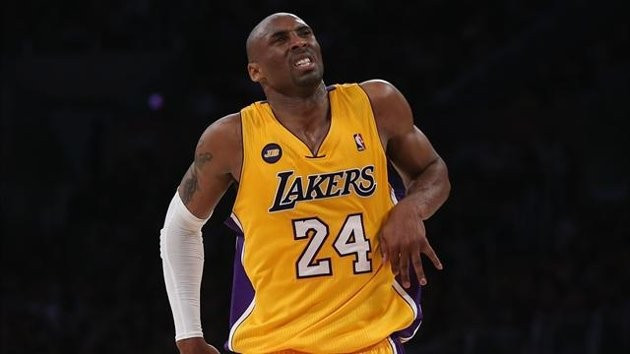 Basketball star Kobe Bryant has revealed that he fears that his career could be over after suffering a torn Achilles heel.
The 35-year-old LA Laker player, who has dominated professional basketball for almost two decades, scored 34 points during the team's 118-116 win over the Golden State Warriors before getting hurt with three minutes left of the game. He is expected to miss a minimum of six to nine months.
Byrant, who has suffered multiple injuries throughout his career, took to Facebook to vent his anger and frustration in an open letter to fans.
Ahead of his Achilles' tendon surgery, he revealed that he felt a 'pop' as he tried to run past Harrison Barnes and believed that the injury would likely end his season and even take him out of the game for good.
"This is such BS! All the training and sacrifice just flew out the window with one step that I've done millions of times! The frustration is unbearable," the sportsman wrote.
"The anger is rage. Why the hell did this happen ?!? Makes no damn sense. Now I'm supposed to come back from this and be the same player Or better at 35?!? How in the world am I supposed to do that??
"Maybe I should break out the rocking chair and reminisce on the career that was."
The shooting guard went on to admit that although he was struggling to find the strength to remain optimistic, he would for the sake of his fans.
"There are far greater issues/challenges in the world than a torn achilles. Stop feeling sorry for yourself, find the silver lining and get to work with the same belief, same drive and same conviction as ever.
"If you see me in a fight with a bear, prey for the bear". Ive always loved that quote. Thats "mamba mentality" we don't quit, we don't cower, we don't run. We endure and conquer.
He ended the emotional post by thanking his fans for their prayers and messages of support.
Although Achilles' tendon injuries can be especially challenging for older athletes to recover from Dr. Neal ElAttrach, the surgeon who performed the operation on Bryant, is optimistic. He insists that the father-of-two could be back as early as next season if he taps into the competitive drive and mental toughness needed to speed up his recovery.
"I can point to all of the scientific aspects of the repair, but just as important if not more important is, who is that Achilles attached to?" said ElAttrache told the Times.
"In this situation, it's attached to Kobe Bryant, who has figured out a way to get through some injuries that would ordinarily be career-threatening. Some of the things he's had go on with him have ended guys' careers in the NBA."
ElAttrach added: "He's figured out a way to get through it and be one of the best players in the NBA."
Many fans will be relying on Bryant to make a swift comeback to the game. The athlete, who has often been compared to Michael Jordan, has been named the most valuable player of the regular season once and Finals MVP twice. He has also won two Olympic gold medals with the U.S. team and been an NBA All-Star for 15 seasons running.