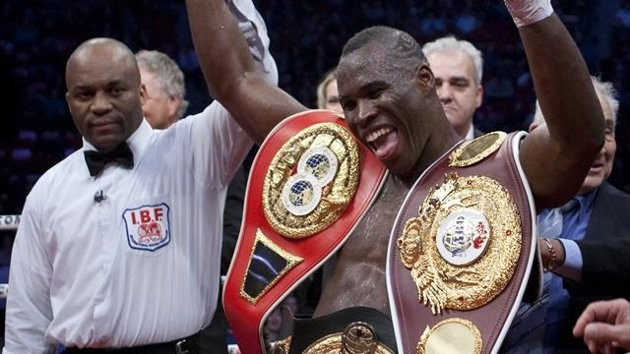 Tony Bellew is confident that he can become world champion before the end of the year as he truly believes that he has the skills to overcome WBC light heavyweight title holder Adonis Stevenson.
The 30 year old has worked hard to put himself into a position where he is the mandatory challenger for the WBC belt and faces Stevenson on 30 November in Montreal after the champion overcame Tavoris Cloud with an impressive performance.
Stevenson, nicknamed Superman, produced a near punch perfect display as he overcame Cloud in front of his home fans in Canada. The champion picked the American apart at will and landed numerous power shots with his feared left hand before the contest ended after seven rounds.
The 36 year old has now defeated two former world champions - Cloud and Chad Dawson - in his last two fights and is supremely confident after spending years trying to earn a world title opportunity.
"I'm proud, because I worked hard and I showed I can box," said Stevenson after the fight. "I did everything according to my game plan.
"My corner said to go to the body. I knew the longer it went on it would be in my favour because I was wearing him down. My trainer did a very good job. In four months I have beaten two great champions at the weight."
Hall of fame promoter Don King was also impressed with the performance of the Haiti-born light heavyweight, saying: "Superman was here and we didn't have any Kryptonite. Tavoris did a great job of being able to take it, but not of being able to give it. (Stevenson) used a bit of Ali and a bit of Tyson. I was truly entertained."
Despite the dominant performance from Stevenson, Bellew is confident that he can travel to Canada and rip the title away from the heavy-handed southpaw.
"So Stevenson won! I'll be back here soon enough though and believe me when I come back here I'm taking his belts home with me," tweeted Bellew who was sat ringside to watch his future opponent.
"[sic] Let's see if Superman is as tough as they say cos I have a feeling he doesn't wanna know! I'm ready an we have a deal in place, down to him!"
Bellew has previously fought for a world title and suffered his only professional loss on that occasion when he was outpointed by Nathan Cleverly back in October 2011.