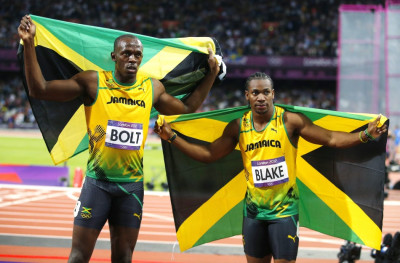 Usain Bolt and Yohan Blake, the two fastest men in the world, have a peculiar relationship: a mix between friendship and competitiveness, which has marked many sport stories before.
Bolt, 26, and Blake, 22, run for the same country, train together and are said to be good friends.
Nevertheless, when they set their foot on a track's starting lane, a single thing matters to them: victory.
So far Bolt proved to be superior but the number of times he looked at Blake, while running the Olympic 200m final, showed his concerns about his friend's growing performance.
"In training he always works hard and pushes me," Bolt said after the 100m final.
"The trials woke me up. Yohan gave me a wake-up call. He knocked on my door and said 'Usain this is the Olympic year, wake up'. After that I refocused and got my head together," Bolt said talking about the Jamaican Olympic trials, where Blake beat him twice.
The duel between the two Jamaicans has been London Olympics' cover story but it is not the first time in sports history that two friends were up against each other.
IBtimes UK looked at some of these challenging sporting duels.
Muhammad Ali and Joe Frazier
Ali-Frazier is the most famous rivalry in the history of boxing and maybe also of sport. At the beginning the two respected each other and had friendly manners between themselves. Frazier also lent Ali money to continue his legal battle after Muhammad's disqualification from fighting. Later their relationship deteriorated. The two fought 3 bouts between 1971 and 1975.
Earvin "Magic" Johnson and Larry Joe Bird
Lakers versus Celtics, Johnson versus Bird: one of the greatest basketball rivalries of all times. The two played together in the US Olympic dream team at Barcelona in 1992.
Roger Federer Rafael Nadal
Always free with reciprocal compliments out of the pitch, Federer and Nadal battled for the ATP number one ranking position in numerous Master finals.
Ayrton Senna and Alian Prost
Both driving a McLaren, Senna and Prost started as friend and finished speaking to each other just to exchange mutual accusation of misbehaviour, following a couple of dodgy crashes. Nevertheless at Senna's funerals Prost helped carrying the coffin to grave.
Leo Messi and Cristiano Ronaldo
Probably the two best playing footballers, Messi and Ronaldo challenge themselves in la Liga's Clasico: Barcelona Real Madrid.
Valentino Rossi and Sete Gibernau
Great friends at their careers' start, Rossi and Gibernau friendship ended when the Spanish became a threat to Rossi's Motor biking throne.
Alistair and Jonathan Brownlee
The fresh most famous British brothers duelled for gold in the Olympic triathlon.
Fausto Coppi and Gino Bartali
Two Cycling icons, Coppi and Barali duelled hard on mountain tracks during the 1940s' 1950s'. In a celebre picture Bartali hands his opponent his bottle, as Coppi ran out of water.