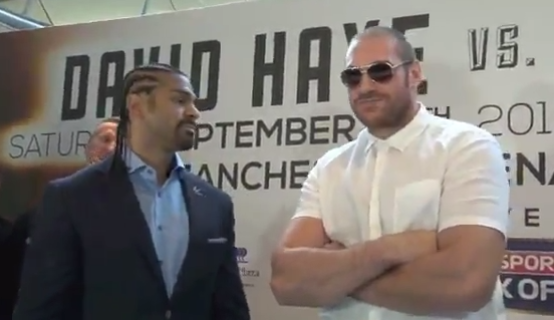 David Haye is used to being the outspoken one, the fighter that makes the headlines. Whether it is using his acid tongue to dismiss an opponent's chances or wearing a crude t-shirt depicting the Klitschko brothers as headless corpses, the Londoner is used to hogging the limelight.
At a press conference in Haye's own backyard of Vauxhall it was Tyson Fury that grabbed everyones attention with his antics. The outspoken heavyweight would dominate proceedings as he got the better of Haye on the microphone and left the former WBA champion lost for words.
Fury is at ease in front of the cameras and there were plenty in attendance as the two British fighters traded verbal blows ahead of their hotly anticipated clash on 28 September at the Manchester Arena.
The towering frame of Fury might be intimidating when stood across the ring but decked out in an all-white get up that wouldn't have looked out of place on Miami beach in the 1980's, he was at his most laid back.
Encouraging journalists to ask more questions so that he can aim another blow at Haye, Fury was exuding confidence and took great pleasure in leaving his opponent at a loss for words.
"Let's not get things confused here," Fury will tell Haye while leaining closer to look him in the eye. "You're the dog and I'm chucking you a bone. Before the Tyson Fury fight what were you going to go, who were you going to fight? Nobody.
"I'm giving you a chance. I'm the young up-and-comer, the one on everyone's tongue. You're the one that stinks the place out and blames it on their toe.
"Then you fight him Chisora, who when I beat him was a virgin, when you beat him he was a journeyman. So it's me giving David Haye the bone, not the other way around."
Fury is ruled by his emotions both in and out of the ring. He admitted that he is unlikely to employ a different game plan to the one that saw him knocked down by Steve Cunningham before delivering a brutal knockout blow.
Haye did his best to stay calm and was never riled by the antics of Fury but for once it seems he will have to play a supporting role. There is still more than two months before the bout takes place and there will be plenty more opportunities for both men to have their say.
On plenty of occasions it was Haye being the bold and brash young pretender but that role firmly belongs to Fury. For his part the 32 year old Londoner remained collected and explained the reasons he has taken the fight.
"A lot of people don't believe he deserves a shot but he's unbeaten in 21 and is up there," declared Haye. "I want to win a world title again and facing a big, strong guy like Tyson will bring out the best in me.
"I'm the seasoned veteran on this occasion, which is new territory for me.He's claimed he's the best ever, which is a bold statement, but he's got the chance to shut me up and prove it.
"I believe this will be his last shot at the big time and I'm happy to give him a nice pay day. I'm going to show why I'm the Hayemaker."
While there was certainly plenty of bravado from both men it was the calming voice of Peter Fury - Tyson's uncle and trainer - that left a lasting impression. He spoke of his respect for Haye and made it clear that there would be no excuses if his fighter suffered a first professional loss.
Peter will attempt to get Fury to fight to a game plan and not lose his head but this is the biggest test of Tyson's fledgling career. He may well have taken the first round, but there is a long way to go before the war is won.