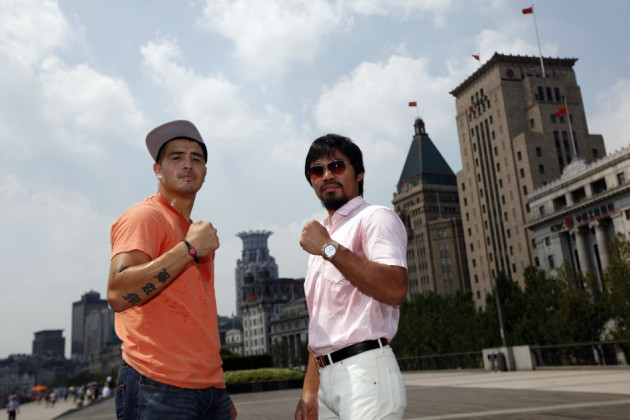 Freddie Roach cannot see Brandon Rios making it past the fourth round when he meets Manny Pacquiao inside the ring on 23 November in Macau, China.
The Filipino legend steps back into the ring for the first time since his devastating knockout loss to Juan Manuel Marquez last December and has been in scintillating form in the gym according to his long-term trainer.
"Manny's last training session was nothing short of amazing," said Roach. "We were supposed to do six rounds on the mitts and I cut it off after four rounds.
"They were the best four rounds of mitts I have ever done with Manny. He was blazing. He was throwing the heat. This was the happiest and most productive camp I have had with Manny in years."
Roach has stated on several occasions that he would advise Pacquiao to retire if he underperformed against Rios but it seems he is now sure that the 34-year-old will win in impressive fashion.
"I know I predicted that Manny would knock Rios out inside six rounds but based on our last workout, I don't see how Rios makes it past the fourth round," Roach added.
Pacquiao is hoping to get his career back on track after consecutive losses to Timothy Bradley and Marquez, and has called on Biblical legend to help inspire him against a man whose height advantage has led some to believe he can neutralise his opponent.
"Am I confident for my fight with Rios? I am more than confident," said Pacquiao. "Rios is bigger than me. Remember Goliath was bigger than David and yet David needed just one stone to fell the giant. I enter this fight stronger than ever.
"I have the strength of my country and my people coursing through my body. I fight for them, not for me. I fight for their glory, not mine," he said.
However, the bold claims of Pacquiao and his trainer appear to have had little effect on the unrelenting Rios, whose come forward, all-action style, has made him a firm fan favourite.
"I want to feel Manny's power. I want to feel all of it. This is the first training camp I have kept to the game plan and done everything I was told to do. Manny Pacquiao is a big step. I am going to shut everyone up and prove I am the best," Rios said.
"The second [Mike] Alvarado fight was my bad. I was focused on knocking him out and that's how I trained and fought, throwing one shot at a time trying to land that knockout punch. It was also the first time I ever lifted weights and by the third round I was slowing down.
"This time I am focusing on winning - not on the knockout - and Robert and his dad have designed a lot of ways for me to do that. My body clock has finally adjusted to Macau. I slept until 7am and was in the gym before 9am," he said.
"I know we are in Manny's backyard and I want to win every round. I have trained not to give up a minute to Manny Pacquiao."