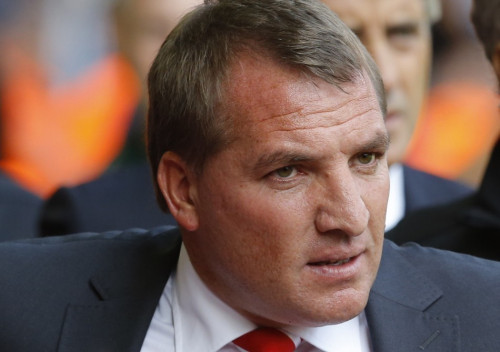 Liverpool manager Brendan Rodgers claims the best team lost and the Reds deserved a replay during his side's 2-1 defeat to Arsenal in the fifth round FA Cup tie at the Emirates.
Alex Oxlade-Chamberlain opened the scoring for the Gunners in the first half before Lukas Podolski doubled the lead just after the start of the second half. However, Liverpool were awarded a penalty and the Reds skipper Steven Gerrard converted from the spot kick as the score line was 2-1 during the hour mark.
Liverpool star Luis Suarez was challenged by Chamberlain inside the penalty area and the referee Howard Webb denied in giving the Reds their second penalty of the match. The former Swansea manager slammed the referee for not awarding his side a penalty and claimed it should have been an easy decision.
"It was a blatant penalty. I don't know why Howard didn't give it but maybe it came too close to the first penalty. It should have been an easy decision,"' Rodgers explained.
"First one Luis [Suarez] gets clipped. Second one was clear but I'm not sure if it was because it was just after that. Luis got the ball and Alex has clipped him straight after that, it was strange."
"The best team lost, we deserved at least a replay. It should have been 2-0 in the first 6-7 minutes," Liverpool manager concluded.
Despite the defeat against the Gunners, Rodgers believes his side have raised the expectations after their performance against Arsenal at the Emirates.
"It's just about missing out on the quarter-final. We were happy to have a home draw, no matter who it was against. We love playing at Anfield - it's been a real great place for us over this last year or so," Rodgers said.
"I thought our performance level was outstanding. I remember being sat here a number of months back after the league game and Arsenal were clearly the better side that day."
"So to come here and virtually dominate much of the game, and look a real threat going forward, was great. Then to end up with nothing in the game was disappointing because it was a competition we wanted to do well in," he added.