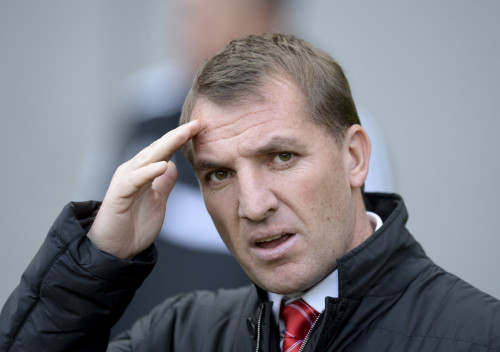 Liverpool manager Brendan Rodgers has revealed that he will look to strengthen in January but only if the right players are available.
The Reds are currently perched fourth in the table after a scintillating 5-3 win over Stoke City at the Britannia and are interested in challenging for the title. The return of Steven Gerrard and Daniel Sturridge into the squad has boosted them immensely ahead of a busy period which will be a real test of their strength in depth. They are currently short in defence with the likes of Mamadou Sakho and Daniel Agger all out with injuries. The full-back positions are also depleted with Jon Flanagan and Jose Enrique on the sidelines.
The former Swansea manager has revealed that he is keeping a close eye on the market and will splash the cash if an opportunity arises. Liverpool have been linked with moves for Mohamed Salah from Basel and Andriy Yarmolenko from Dinamo Kiev but have yet to make an official move for either.
"We'll see what's available, there's nothing at this moment in time but we'll see how the market goes over the next few weeks. I would still like to strengthen if I could. It's something we would like to do, but only on the basis that there's the right quality there that can strengthen us. We've got players coming back, [Mamadou] Sakho's back in as well; he'll be back next weekend. And the likes of Stevie and Daniel coming back is good news for us," Rodgers said.
The northern Irishman believes that they can challenge for the title this season and insists that it is a major achievement, having picked up from where they finished last season.
"We entered into the game today, 18 games to go, nine at home, nine away, knowing seven of those nine away were against teams in the bottom half. That doesn't mean they are gimmes by any means – it is a very tough league – but certainly we have shown enough that we are going to be challenging and that is all we ever wanted to be. We never stated we are going to win the league, to jump from where we have been at, we just needed to be in the conversation," he concluded.