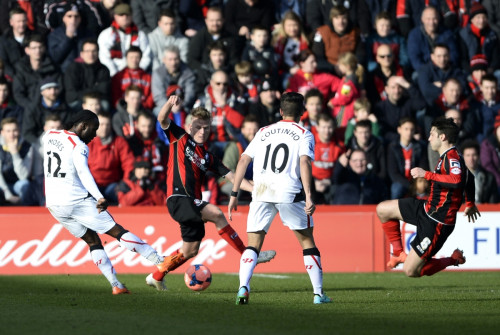 Liverpool manager Brendan Rodgers has offered loanee Victor Moses the carrot of winning a permanent deal at Anfield should his form continue to improve.
Moses, on a season-long loan from Chelsea, opened the scoring as the Reds surged into the fifth round of the FA Cup after overcoming Championship side AFC Bournemouth.
The 23 year old has endured a difficult first half to his spell with Liverpool, making just six league starts often out of position rather than in his favoured wide role.
The infrequency of his appearances coupled with being played out of position has contributed to Moses' limited impact at Liverpool but after staring in the win over Bournemouth, Rodgers has offered the Nigerian international a route to winning a permanent deal on Merseyside.
"For Victor it is very simple," said Rodgers, after Liverpool booked a fifth round meeting with Arsenal.
"He wants to remain in a position that he will remain at a big club, whether it is Chelsea or Liverpool. There is no bigger motivation than that.
"In order to do that he needs to be performing day in, day out in training.
"If he does really well for us there is a possibility we will want to have him permanently but ultimately it is Chelsea's decision because he is their player. And if he has done really well, then they will want to keep him.
"When you sample the life of the big institutions like Liverpool, then there's not many that want to leave. I have seen improvements in his training.
"If the top players are training nine or 10 out of 10 every day and you have players who are five or maybe six out of 10 every day, then they are not ready to train with them, never mind play games with them. So you have to get them up to the level."
And Moses himself sees the significance of improving his form, with Liverpool's attempts to qualify for the Champions League coming to a head in the next few months.
"It was really important," the former Wigan Athletic man said.
"I know I haven't been myself for the past few weeks but I started and got a goal today.
"I just want to kick on from here and try to get a few more goals in the second half of the season. It's crucial for me and the club as well."