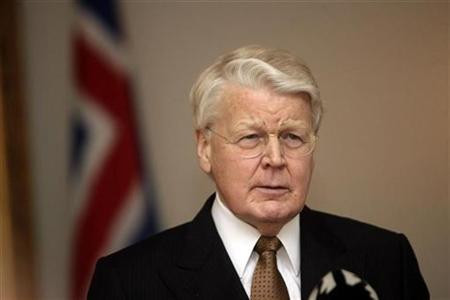 The British and Dutch governments have made attempts to block Iceland's application to join the European Union due to the billions of pounds owed by the country following the collapse of Icesave in 2008.
Today the EU decided to open up negotiations for Iceland to join the EU however both Britain and the Netherlands said that before entry Iceland would have to deal with "existing obligations such as those identified by the European free trade area surveillance authority".
Britain says it is owed £2.3 billion by Iceland after the collapse of Landsbanki left the British and Dutch governments having to guarantee the savings of 400,000 accounts in their own countries.
A bill to repay the money owed to Britain and the Netherlands was vetoed by Icelandic President Olafur Ragnar Grimsson and then rejected at a referendum put to the people of Iceland a few months later.
Relations between Britain and Iceland were strained not only by the collapse of Icesave but by the subsequent use of the British government, under former Prime Minister Gordon Brown, of anti-terrorist legislation to freeze Icelandic assets in Britain. The Icelandic government denounced the use of the laws as "absurd".
The British foreign secretary, William Hague, this week said that Britain might well veto Iceland's application to join the EU unless it "meets its financial and legal obligations".
Other obstacles to Iceland's application to join the EU include markedly different fishing policies and weakening public support for membership, as the eurozone continues with its debt crisis.