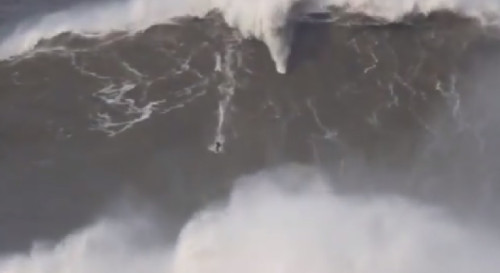 A British surfer may have broken a record for riding the world's biggest wave which he set himself just three months ago.
Andrew Cotton, from Devon, was filmed surfing on a wave on coast of Nazaré in Portugal which has the potential to be bigger than the estimated 80ft record breaking wave he rode in the same spot three months ago.
Cotton, a plumber by trade, achieved worldwide fame after catching the potential record-breaking wave in on the west coast of Portugal in October 2013. It now appears he has managed to surf an even bigger wave on the same beach.
The current confirmed world record is held by Cotton's surfing partner Garret McNamara, who rode a 78ft wave in Nazare in 2011.
However, witnesses who saw Cotton's latest 80ft wave argue it tops both McNamara and his own potential record beating wave last October.
"Nazare was very big, scary and dangerous today," said Cotton. "Only a couple of waves were caught. Thanks a million for putting me perfectly in the spot again Garrett McNamara, you're a inspiration to me and Hugo Vau for safety cover and all the team at Nazare who make it possible.
Judges from Billabong XXL will now examine the footage to determine if the wave is indeed a record-breaking wave.
Cotton told the Mail Online: "To me, it felt like something I've never even seen before.
"It is exciting to think that this is a wave surfers wouldn't have dreamed of surfing ten years ago. What will it be like in another ten?
"I thought I'd reached the biggest three months ago - I never thought it beat that so soon."