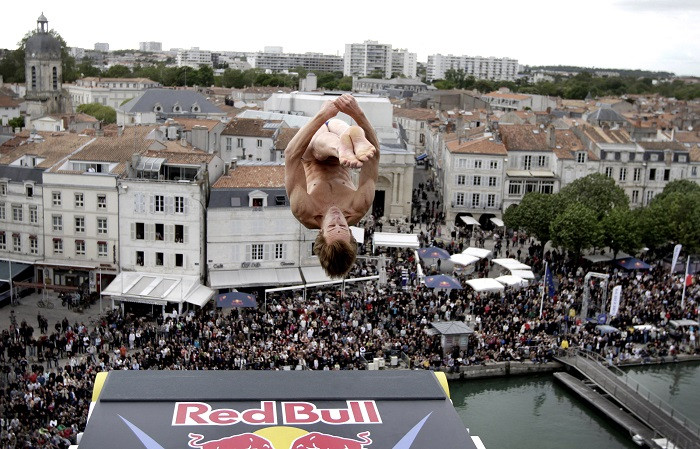 British diver Gary Hunt has topped the podium to win the Red Bull Cliff-Diving World Series in Texas, setting a new competition record.
Hunt's front triple somersault with three and a half twists earned him three scores of 9.5 from judges, beating his own personal best.
He topped the podium with 526.40 points, ahead of Russia's Artem Silchenko in second place with 503.90 points and the USA's Steven LoBue in third place with 493.05 points.
"I did four good dives and a new personal best score so I couldn't ask for much more," Hunt said.
"It just pumps you up so much when you're hearing the scores come through and you just want to keep that streak going. The crowd sounded like they were having a great time. I think I'm going to join them!"
At the inaugural women's World Series event, the USA's Rachelle Simpson claimed the top spot in the closely fought contest with 222.30 points. Anna Bader of Germany came in second place with 218.70 points, followed by Texan Cesilie Carlton in third place with 215.55 points.
"It means so much to me to win," Simpson said. "My family and friends were out here and I just wanted to put up a good show and represent Texas.
"I'm going to keep training between now and the next women's competition in Norway and I'm excited to be a part of this."
What is cliff-diving?
Cliff-diving involves divers jumping off cliff faces at heights of up to 92ft. One of the most high-profile cliff-diving competitions is the Red Bull Cliff-Diving World Series, which was established in 2009.
The 2014 World Series competition follows the traditional high diving format, and dives consist of a fixed degree of difficulty of 3.8 and two optional dives. Divers hand in their planned dives the day before the beginning of the competition.
In 2013, Russia's Artem Silchenko claimed first place, followed by Gary Hunt in second, and Orlando Duque in third place.
Watch footage of the top 10 Red Bull cliff dives below: