Cardiff City Supporters Trust chairman Tim Hartley believes the new breed of supporters of the South Wales club will only assist in pushing through proposals from Malaysian owner Vincent Tan to rebrand the club in time for the new season.
Tan is willing to invest a £100m into the club, which would include expanding the stadium capacity to 35,000 and offering manager Malky Mackay funds to strengthen a team who crashed out of the Championship play-offs on Monday at the hands of West Ham United.
However, the package is accompanied by a number of conditions which include changing the club's home kit from blue to red, and altering The Birdbirds badge to that of a dragon, proposals that have outraged the majority of supporters at the Cardiff City Stadium.
Since moving to their new ground in 2009, Cardiff's average attendances have been among the top six in the Championship, but it's that additional support which could help drive the controversial proposals through.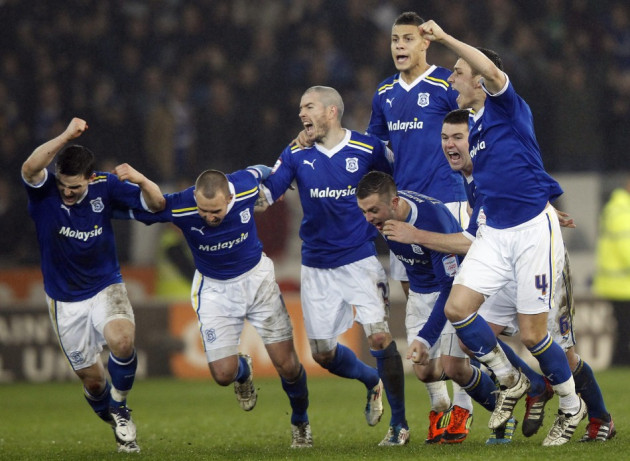 "There will be some members of the trust who will say 'what's the problem' and don't care if we play in pink as long as we're in the Premier League," Hartley told IBTimes UK.
"And a lot of the new audience that they've been able to get down at the Cardiff City stadium are what I call nouveau arrivistes. They've come because the stadium is bigger and the team is better; they haven't been in the fourth division they haven't been to Scarborough on a cold Tuesday night.
"A lot of fans will not appreciate the history and the traditions of the club and in that sense this will be driven through come hell or high water. There are some elements of the fans, and I myself am one, who believe this has gone too far."
Significant investment this summer could be pivotal in earning Cardiff promotion to the Premier League next season; however the ambition will come at a price to the supporters, with the club's history ready to be sacrificed.
Having been without top flight football for 50 years, City fans are understandably yearning for promotion, and having suffered play-off heartbreak in three consecutive seasons, promotion to the Premier League is long overdue.
Despite being offered an investment that would hand Mackay substantial funds this summer, Hartley is unwilling to compromise the club's image and history, regardless of the prizes on offer.
"The main points of the overhaul are that they're going to get a better team, a better stadium with better training facilities and let's hope that the Premier League will happen next season," he said.
"What we're saying is, we could have used that money in January, but why do you need to change the colour and the logo and break with a 100-year tradition.
"You can get into the Premier League with that money, with that investment with the colour blue with a bluebird on it. You can even compromise with a dragon and a bluebird exchanging cuddles on the shirt but to do this unilaterally and TG [Vincent Tan] knows the strength of feeling that this is a very traditional club.
"Me and the supporters trust are firmly behind the investment and we're very grateful for what we've got at the club, it's a better club than it has been for years.
"It goes against the grain of what Cardiff City stands for which is a community football rooted in the local community. Generations of men and women have worn blue, called themselves bluebirds and they're medling with something that is close to people's hearts.
"Obviously people want to move forward and we obviously want to be a Premier League club, I want to have one season in my life where Cardiff are in the Premier League but I want it to be on my terms as well."
The proposals were presented by chief executive Alan Whiteley during a meeting on Tuesday between club officials and several fans groups, after which the trust have begun canvassing opinion among their members.
It's understood that the package cannot be negotiated and that any financial investment must be accompanied by a rebranding.
Hartley, who has already renewed his season ticket for next season ahead of the changes, is hoping that negative feedback from the trust and suggestions on how the deal can be restructured, can result in a compromise.
"They made that very clear that this was a fait accompli. The package cannot be taken apart in bits and negotiated. They've shown us the logo, I think they've ordered the kits.
"We've already emailed all of our members to see what they think and gathering those answers together and I think that the vast majority will be against the changes they're proposing in terms of the kit.
"I'd like to think that they will listen to us and that there will be some sort of compromise and that the badge can be altered to incorporate the bluebird.
"It would be nice if they came and met us not half way, but some part way. And maybe say 'we'll try this for a season or two and see how it goes' and not to be treated disdainfully as people will pay the price whatever the product is."