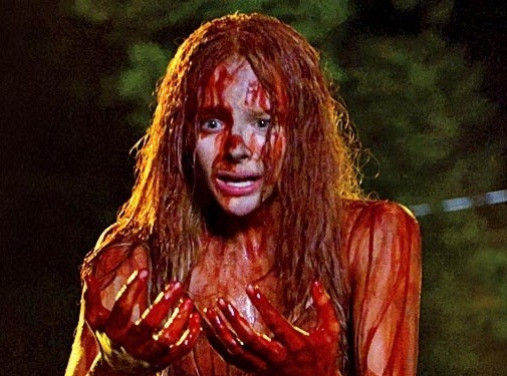 The first teaser trailer has been released for MGM's remake of Stephen King's horror classic Carrie. Kimberly Peirce is directing the film, with Kick-Ass star Chloë Grace Moretz playing the teenage social outcast with psionic powers.
Running just under a minute in length, in one single shot a roving camera hovers above a town in flames as people discuss the aforementioned child and the local town of Hermon, Maine. An immediate sense of dread is felt as the voices say, "This was always such a peaceful town," and that "I don't want to use the word conspiracy but that's what it's looking like".
One voice talks about Carrie saying, "Her mother was a fanatic. I don't know how she lived with it," before another mentions that, "There's something no-one seems to understand, she wasn't some monster, she was just a girl". As well as these voices an eerie song can be heard on the soundtrack, along with the sounds of a child laughing. The camera finally focuses in on Carrie standing at the epicentre of the disaster, covered in blood.
The original 1976 film directed by Brian De Palma and starring Sissy Spacek as Carrie went on to become a horror classic. This trailer appears to be showing us the aftermath of Carrie's fateful high school prom night, in which she rampaged through the town. How faithful this remake is to the original remains to be seen.
The original movie was the first Stephen King novel to be adapted for the screen. Since then a vast array of his literature have been turned into Hollywood films, such as The Shining, Misery and The Shawshank Redemption.
The movie is due out on 13 March 2013 in the US, and will be shown from the 5 April in the UK.