Celtic's Champions League win last night, which sealed their qualification for the knock-out stages as other results went their way, confirmed the feeling of many worldwide football fans that right now that you would really hate to be a Rangers fan.
While the Gers are currently in the Scottish third division after being heavily reprimanded for going into liquidation, Celtic are going from strength to strength, and without the same pressure from their rivals in the SPL, the side are able to concentrate on progressing in Europe, and so far they've gone further than many imagined.
This time last season, Celtic were not in the Champions League, but in the much more gruelling Europa League, and had just defeated Hearts, a result which put them within four points of catching Rangers. The title was still very much in the balance, and the pressure for The Bhoys was at an all-time high as they continually failed to take maximum points in Europe.
After Rangers were deducted 10 points last February, and the fiasco over their troubled finances became public, the title was Celtic's to lose. Many rued the possibility of the death of Scottish football, with Rangers chief executive Charles Green questioning the future financial viability of the league as a whole.
"It's the end of the problems for Rangers but it will be the beginning for many other clubs," he said in July. "I think it will hugely difficult for Scottish clubs.
"There is no doubt Scottish football has been going downhill and if you look back in history, as I can as a non-conflicted outsider, to 14 years ago when the SPL was formed and since that time Scotland hasn't qualified for a major competition.
"Incomes have not grown and there really has to be a look at where Scotland as football business is going."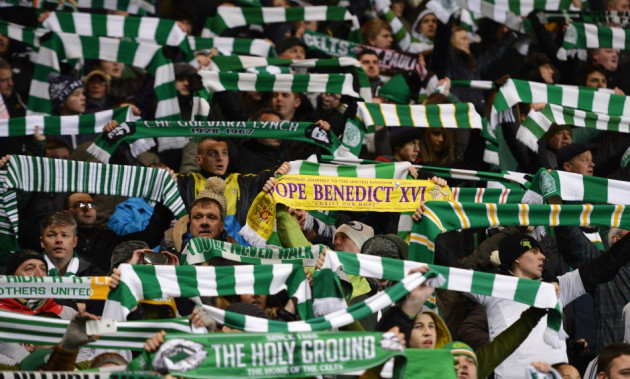 There was talk that even Celtic fans would rue the day they lost their biggest and most bitter rival, with one fan writing for the Economist: "After a century of sectarian bad blood between Rangers' mostly Protestant backers and Celtic's primarily Catholic Scots-Irish supporters - the two teams' fans clashed violently on the pitch following a match in 1980 - Celtic may be surprised to discover how much they miss their arch-rivals now that they have been reduced to toiling in the third division."
But this season, exactly the opposite has occured, as Celtic qualified for the Champions League knock out stage for the third time in their history.
And not only have they qualified, but they've done it in a truly nerve-racking and gutsy style, that has allowed Scottish football fans to be proud of their best side and fans from across the globe to get behind Celtic in their underdog-esque achievements.
While their victory over Spartack Moscow sealed qualification, it was the Barcelona win that many have remembered as one of the most emotive matches to take place at Celtic Park. At 2-0 up in the 90th minute, it took the great Lionel Messi to break through their defence to salvage an away goal in a loss for the side considered to be the best in the world.
Celtic's European exploits has meant the SPL has been much more competitive than some might have imagined, and while they currently sit at top, they've won just two of their last six matches, and both Hibernian and Inverness are within a game of replacing The Hoops' as they look towards the Christmas period and the business end of the season.
It's very hard to imagine that there'll be an upset north of the border, and that Celtic will lose their crown that they won by a blistering 20 points ahead of a punished Rangers and 29 over third-placed Motherwell last term.
But with the absence of an adversary, it seems that Celtic have replaced their most important match of the season with something worth a lot more, and without the off-the-pitch controversy attached to it.