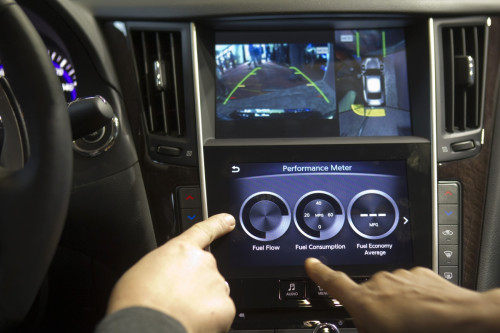 Never has the link between technology and driving been closer than it was during the Consumer Electronics Show in Las Vegas this month.
This year's CES saw a whole range of car manufacturers team up with technology companies. From Mercedes and Pebble, to Hyundai and Google Glass, everyone wanted a piece of the action.
---
Android Auto Alliance
---
Google's Android operating system might be most famous for its appearance in smartphones and tablets, but it also exists in household products like ovens and fridges - and soon it will appear in car dashboards, too.
Car manufacturers are no strangers to computer screens, multimedia and touch controls, but until now each has gone about developing the technology in a different way, resulting in a fragmented experience for the driver and no commonality between manufactuers.
With Open Auto Alliance, Google plans to create a universal, Android-powered platform to be shared across a number of manufacturers.
The Alliance counts Audi, General Motors, Google, Honda, Hyundai and Nvidia as its founding members, with more expected to join in the future. Google hopes the first vehicles to use Android will arrive this year.
"The worlds of consumer and automotive technologies have never been more closely aligned, and this alliance will only pave the way for faster innovation," said Ricky Hudi, head of Electronics Development at Audi. "Working toward a common ecosystems benefits driver safety above all."
---
Hyundai and Google Glass
---
Although the legality of using Google Glass while driving remains sketchy at best, Hyundai has gone ahead and announced compatibility between its upcoming Genesis car and the head-warn gadget.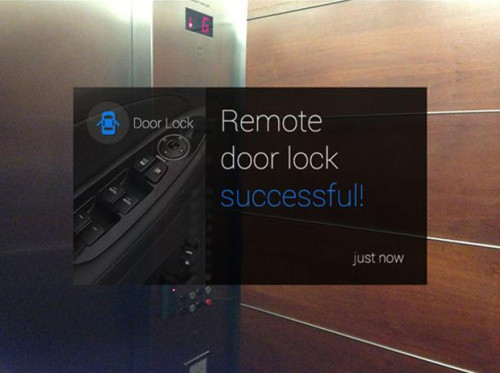 The app will let drivers start their car remotely (by speaking to Glass), search for local points of interest, see their vehicle location (useful in a multi-storey carpark), see fuel alerts and nearby petrol stations, and lookup vehicle diagnostics and maintenance information.
Hyundai and app developer Covisint are yet to reveal more about how Glass will work while driving, but we imagine a head-up display of driving directions and current speed will be included - all that remains is for lawmakers in the US, UK and elsewhere to state their position on driving with Glass.
---
Mercedes and Pebble
---
Mercedes used CES to announce a strategic partnership with smartwatch manufacturer Pebble. The deal will see the German car maker get early access to upcoming features and software updates for the Pebble watch.
Using the new Digital DriveStyle app, Mercedes cars can communicate with Pebbles smartwatches to display information like fuel level, vehicle location, and whether you remembered to lock the doors when far away from the car itself.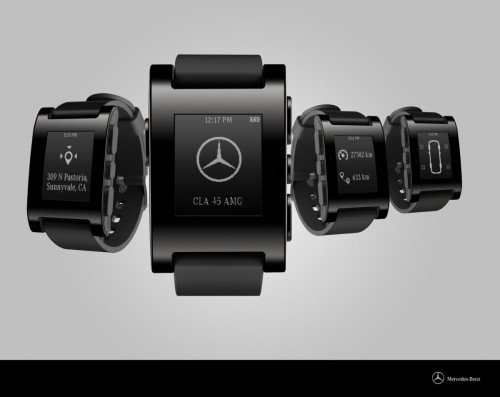 Mercedes explained in a press release: "When hopping into their car, the companion Pebble smart watch app magically transforms, alerting its driver to real-time hazards through V2V [vehicle to vehicle] technology like accidents, road construction, or stalled vehicles by vibrating the watch."
Once in the car, Pebble wearers can assign the watch's three buttons to control certain features of the car - such as quickly reporting hazards encountered on the road, controlling media playback, or quickly showing nearby traffic conditions.
A button on the Pebble can even be used to activate the car's connection to Siri on the driver's iPhone.
---
BMW and Samsung Galaxy Gear
---
Also targeting the nascent smartwatch market, BMW has partnered up with Samsung to take advantage of its Galaxy Gear. Initially exclusive to BMW's new i3 electric car, a new app for the Samsung smartwatch will let drivers remotely climatize the car's interior - heat it up or cool it down, depending on the outside temperature - before they get in.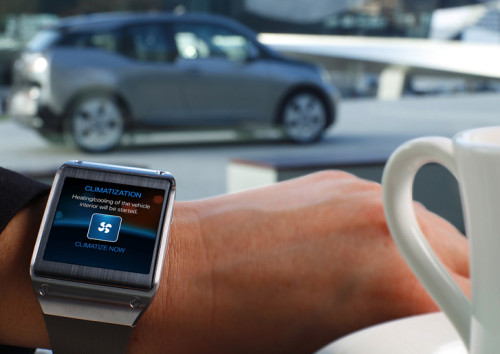 Similar to the Mercedes/Pebble app, i3 owners can check their car's battery level, predicted range, the status of doors, windows and the sunroof, and notifications of upcoming services on the watch and while away from the car.
Finally, the Galaxy Gear app lets drivers send addresses to the car's satellite navigation, so the directions are ready and waiting as soon as you get in.