AC Milan 1-1 Malaga

Anderlecht 1-0 Zenit St Petersburg

Dynamo Kiev 0-0 FC Porto

Man City 2-2 Ajax

Olympiakos 3-1 Montpellier

Paris SG 4-0 Din Zagreb

Real Madrid 2-2 Borussia Dortmund

Schalke 2-2 Arsenal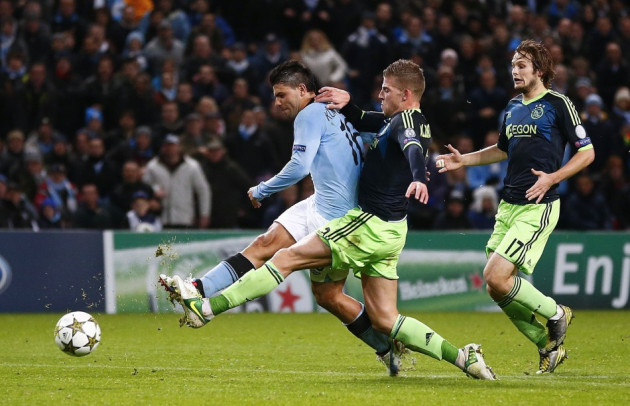 9:41pm: Full time blown and botht he Gunners and City will be disappointed with their results. While Arsenal are still three points ahead of third-placed Olympiacos in Group B, City are sitll ententched at the bottom of Group D with no chance of progressing.
9:31pm: Extra time begins for Arsenal and City - can they save three points each in these match-ups?
9:18pm: Sergio Aguero has given City fans hope, with the striker scoring after finding space in the box and shooting towards the bottom corner.
9:15pm: AC Milan and Montpellier both level the scores with their oppositions 1-1. So much for a slow start to the second half...
9:12pm: Jefferson Farfan peels another goal back for Schalke as the side square up with Arsenal. It's the same old story for the Gunners, whose defence appears to be letting them down and after dominating the second half, the German side look very much in control.
9:07pm: Paris Saint Germain are sealing their place int he next stage as the side take a 2-0 lead over Din Zagreb. Once again, Ibrahimovic is the reason for their advantageous position with a brilliant assist.
8:45pm: A subsitution for Manchester City that could prove to be vital, as Mario Balotelli comes on for Javi Garcia.
8:34pm: Vito Mannone is unable to stop Klaas-Jan Hunterlaar from scoring on the back of an assist from Arsenal target Lewis Holtby. It all started to go awry for the Gunners when Santi Cazorla gave the ball away in the midfield.
8:31pm: Mario Gotze puts Dortmund back in the driving seat after another fine assist from Lewandowski. The midfielder maintains complete control as he lobs the ball over Casillas.
8:29pm: Elisu scores for Malaga to put the Spanish side 1-0 up in the 40th minute, who made the most of an error by AC Milan's Isco.
8:20pm: Real Madrid respond swiftly with a goal of their own within six minutes of Borussia, as Pepe gets in a close-range header. It's still all for the taking in this match-up.
8:16pm: Marco Reus scores for Borussia Dortmund, denting City's chances at making it through their group. Reus takes a header from Robert Lewandowski, before racing off down the right side to get the ball past Iker Casillas.
8:12pm: A chance for Jack WIlshere turns into a score for Giroud, as Arsenal look more in control than the last time they faced Schalke. Wilshere passed to the striker after struggling to find space to shoot, who passed to Lukas Podolski as he moved into the box to head in a score for the Gunners.
8:10pm: Yaya Toure scores on 22 minutes to save City's blushes and keep the side in the match. Samir Nasri's pass was controlled by Toure who swiveled and volleyed straight into the net. Hope has returned at the Etihad.
8:04pm: Theo Walcott looks to have found his best form for Arsenal, with the winger scoring for the Gunners after Arsene Wenger showed faith in starting him tonight. Olivier Giroud is forced to pass after a one-on-one tackle, and Walcott uses brilliant control to tap the ball in.
8:03pm: Siem De Jong scored again for Ajax in quick succession from his first goal, leaving City in an even greater deal of bother in under 15 minutes. The captain is at the end of another corner from Eriksen, and gets past Yaya Toure to score once more for Ajax.
7:55pm: Siem De Jong scores for Ajax in the 10th minute, after Christian Eriksen's corner falls at his feet during a scuffle in front of goal. City are in trouble already...
7:49pm: Olympiakos score in the 4th minuute as Paulo Machado was left unmarked, and could easily tap in Kostas Mitroglou's rebounded shot.
7:45pm: Welcome to the IBTimes UK live updates for the Champions League. Tonight Arsenal look to seal top spot in their group with a win over current leaders Schalke, while Manchester City hope to clock up their first European win of the season with a victory over Dutch giants Ajax.