CSKA Moscow 1-2 Manchester City
Manchester United 1-0 Real Sociedad
Bayer Leverkusen 4-0 Shakhtar Donetsk
Galatasaray 3-1 Copenhagen
Real Madrid 2-1 Juventus
Benfica 1-1 Olympiakos
Anderlecht 0-5 Paris Saint Germain
Bayern Munich 5-0 Viktoria Plzen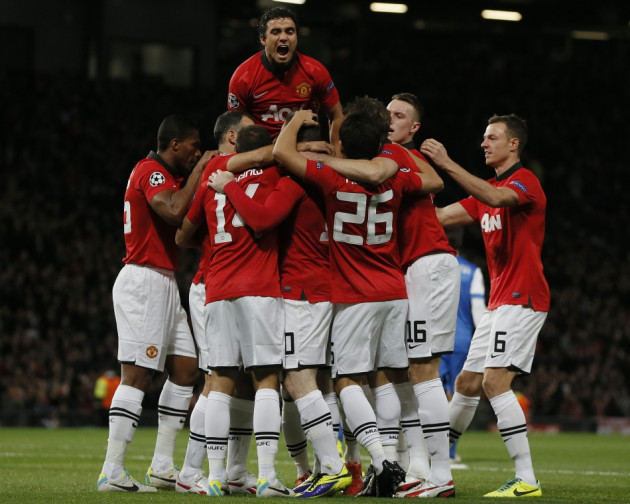 21:45: There are plenty of goals to look back on after another thrilling evening of Champions League football. Both Manchester clubs got the results they wanted but PSG's Zlatan Ibrahimovic will take all the personal plaudits with four goals against Anderlecht, with one in particular likely to be forgotten about anytime soon. Thanks for reading and join us next time.
21:40: Full time whistles have been blown across Europe and United have beaten Real Sociedad. David Moyes' side should have firmly killed off the game given the sheer amount of chances they made but provided a vastly improved performance in front of a vibrant crowd at Old Trafford. Rooney revelled in van Persie's absence while Antionio Valencia looked to be back at his brilliant best as United largely dominated the proceedings.
Earlier this evening Manchester City picked up a valuable 2-1 win away to CSKA Moscow with Sergio Aguero again proving to be the difference in a tight contest.
On a goal laden Champions League night Bayer Leverkusen got the result United would have wanted after hammering Shakhtar Donetsk 4-0. Zlatan Ibrahimovic scored four as PSG crushed Anderlecht 5-0 in Belgium as Bayern Munich hammered Plzen by an identical score at the Allianz Arena. A red card shown to Giorgio Chiellini in the second half nullified a game that got off to an electrifying start as Real Madrid beat Juventus 2-1 thanks to two goals from Cristiano Ronaldo.
Full time scores:
CSKA Moscow 1-2 Manchester City
Manchester United 1-0 Real Sociedad
Bayer Leverkusen 4-0 Shakhtar Donetsk
Galatasaray 3-1 Copenhagen
Real Madrid 2-1 Juventus
Benfica 1-1 Olympiakos
Anderlecht 0-5 Paris Saint Germain
Bayern Munich 5-0 Viktoria Plzen
Goal! Bayern Munich 5-0 Viktoria Plzen (Mario Gotze)
GOAL! Galatasaray 3-1 FC Copenhagen (Claudemir)
Full time: Manchester United 1-0 Real Sociedad
21:30: Staggering from Giggs. From nearly losing possession in his own half the Welshman deftly nips away from a gaggle of opposition midfielders and bursts through the middle before playing the ball to Kagawa. The former Dortmund man provides Rooney with an excellent pass buy Rooney misses the ball completely.
21:27: Wayne Rooney nearly tees up Young perfectly with a low cross after bursting past two defenders, but an alert Bravo is quickly off his line to slide the ball out of danger.
Goal! Benfica 1-1 Olympiakos (Oscar Cardozo)
21:24: The Premier League's pantomime villain this season in Ashley Young looks eager to make an instant impact, but makes the wrong choice when he hits a wild effort on goal that sails wide, despite both Rooney and Giggs screaming from better positions.
21:22: Javier Hernandez makes way for Young, allowing Kagawa to shift inside to a preferred central position.
21:21: Giggs fouls Greizmann at the edge of the area giving Sociedad a telling opportunity to score from a similar position where the Frenchman struck the post in the first half. Thankfully for United, Pardo's effort curls just wide
21:19: Ashley Young is warming up on the sidelines for United. Kagawa, who has enjoyed a much improved second half, is a possible candidate to make way for the winger.
21:15: United are firmly in control with Carrick controlling the tempo after their nervous start to the second half but at 1-0, Sociedad are more than capable of pulling this back with United failing to convert their rapidly growing number of chances.
21:13: United are creating plenty of chances, but they just can't add to their lead. Rooney breaks from the right after collecting an excellent flick on from Valencia but his powerful effort flies over the bar, when perhaps a more subtle effort was required. Meanwhile Schweinsteiger makes it four for Bayern Munich.
Goal! Bayer Leverkusen 4-0 Shakhtar Donetsk (Kiessling)
Goal! Bayern Munich 4-0 Viktoria Plzen (Bastien Schweinsteiger)
21:10: Zlatan is at it again as he adds his fourth after getting on the end of an impressive through ball from Motta while Ribery doubles his tally at the Allainz Arena.
21:07: United close again as Valencia marauds down the right with intention of opening the away side open. Excellent movement from Rooney draws Sociedad defenders out of position allowing Kagawa to run in unchallenged but he tries to take a touch before hitting it. It provides enough time for Martinez to intercept.
Goal! Bayern Munich 3-0 Viktoria Plzen (Franck Ribery)
Goal! Anderlecht 0-5 PSG ( Zlatan Ibrahimovic)
21:04: Valencia hits the post! Minutes after Rooney tests the goalkeeper with a long rang effort, Valencia is picked out wonderfully by the England striker on the right and rifles another low effort across goal. It hits the wood work. Kagawa is nearby but cannot get a follow up effort off in time.
21:03: It seems the Benfica/Olympiakos game is on the brink of being called off due to torrential rain.
21:01: United let out another sigh of relief as full back Zurutuza hits the outside of the post with his cross/shot. De Gea looked to have it covered, but the home side look jittery. In the aftermatch Valencia, perhaps United's best player of the night bar Rooney, strides foward and hits a powerful low effort that is again collected by Bravo.
20:58: Another clever short corner sees Rafael swing in an inviting ball which is powerfully met by Jones and well saved by Bravo. Chris Smalling comes on for United, as he did at the weekend, replacing the already booked Rafael. Not a stir from Januzaj or Nani on the bench as of yet.
20:56: Juventus down to ten men as Chiellini is shown a straight red having been judged to have swung an elbow at Ronaldo. Terrible decision as replays show otherwise.
20:53: Another easy PSG goal, this time Cavani gets in on the action, wrong footing the goalkeeper to add a fourth.
20:52: Wow, polar opposities at Old Trafford compared to the first half as panic-stricken United hapharzardly defend their slender lead. Evans and Giggs struggle to clear and only a series of blocks and agood save by De Gea prevent an equaliser.
Goal! Anderlecht 0-4 PSG (Edinson Cavani)
Red card - Chiellini (Juventus)
Goal! Bayer Leverkusen 2-0 Shakhtar Donetsk (Rolfes)
20:47: Back under way at Old Trafford and a minute in Carlos Vela is a stud's length away from connecting with a Griezmann cross into the six yard area. After Saturday's 1-1 draw with Southampton, Moyes could do without a similar story unfolding tonight.
20:36: Manchester United got off to a rampant start through Wayne Rooney, who has had a fantastic first half. Perhaps the hosts should have capitalised further on a shell shocked Real Sociedad, but the Basques have slowly regained their composure in this contest and gave David Moyes' side a real scare when Griezmann struck the post with a wonderful free kick. The game has been littered with unnecessary yellow cards thanks to the overzealous referee, but all in all, an exciting half of football.
Elsewhere, Zlatan Ibrahimovic is beating Anderlecht 3-0, with PSG involved to some degree. The Swede sealed his first half hat-trick with a wonderful 30 yard thunderbolt and will have his eye on inflicting more damage in the second half.
Ronaldo's brace has given Real Madrid a slender lead in Madrid over Juventus but Fernando Llorente's instinctive finish ensures there is a long way to go in this contest yet. Galatasaray have stormed to a 3-0 lead while Bayern Munich have only scored the two goals against Plzen.
Half time scores:

Manchester United 1-0 Real Sociedad

Bayer Leverkusen 1-0 Shakhtar Donetsk
Galatasaray 3-0 Copenhagen
Real Madrid 2-1 Juventus
Benfica 0-1 Olympiakos
Anderlecht 0-3 Paris Saint Germain
Bayern Munich 2-0 Viktoria Plzen
21:32: Drogba makes it three for the Turkish champions. Eboue races towards the byline to tee it up for his countryman. Easy for Gala.
Goal! Galatasaray 3-0 Copenhagen (Didier Drogba, 45)
Half time: Manchester United 1-0 Real Sociedad (Wayne Rooney, 2)
21:30: Amid that madness, Wesley Sneijder was teed up by Emmanuel Eboue before confidently passing into the net to give Galatasaray a 2-0 lead just as David Alaba lashed in a second for the holders.
21:26: Griezmann strikes the post with a wonderful free kick that had De Gea stranded. Sociedad have grown back into this and if the hosts were in need of a wake up call, they've just got it. Prior to the strike, the referee booked at Sociedad player for attempting to take the free kick too quickly. He probably wouldn't have minded too much had Griezmann's hit swerved an extra yard to the right.
Goal! Bayern Munich 2-0 Viktoria Plzen (Alaba)
Goal! Galatasaray 2-0 FC Copenhagen (Sneijder)
21:23: And that's a first half hat-trick for Zlatan and he's saved the best for last. A quite unbelievable strike from the Swede who meets the ball on the half volley from 30 yards and smashes it into the top corner.
Goal! Anderlecht 0-3 Paris Saint Germain (Zlatan Ibrahimovic, 36)
21:20: Shinji Kagawa picks up the third yellow card of the evening at Old Trafford after Real Sociedad threaten to cause problems on the break. The away side looking a bit more composed now.
21:17: Sergio Ramos has his shirt tugged by Arturo Vidal. After consulting his assistant, the referee points to the spot and Ronaldo duly converts.
Goal! Real Madrid 2-1 Juventus (Cristiano Ronaldo)
Goal! Benfica 0-1 Olympiakos (Dominguez)
20:14: David De Gea called into the action for the first time of the evening. Bearing down on Jonny Evans, Seferovic shifts the ball onto his right foot and fires a venomous effort on goal which De Gea palms away. Rafael booked for mistimed sliding tackle. Meanwhile Ribery puts Bayern ahead from the penalty spot.
Goal! Bayern Munich 1-0 Viktoria Plzen (Franck Ribery)
Goal! Bayer Leverkusen 1-0 Shakhtar Donetsk (Kiessling)
20:10: Same formula for PSG, although this time we get a slightly more elaborate finish from Ibrahimovic after another cross from van der Wiel. Meanwhile in Madrid Paul Pogba's header is only parried by Casillas into the path of Llorente, who taps in to level things up.
Goal! Real Madrid 1-1 Juventus (Fernando Llorente, 22)
Goal! Anderlecht 0-2 Paris Saint Germain (Zlatan Ibrahimovic, 22)
20:07: Hernandez heads in from the far post, but it's ruled offside. Wonderful play from Giggs and Rooney again who combine neatly after a short corner, Giggs whips in the inviting ball but Hernandez is well off.
20:06: PSG are ahead in Belgium after Ibrahimovic taps home from a van der Wiel cross.
20:04: Antonio Valencia breaks down the right with consummate ease once again and swings in another inviting ball for Rooney. He goes for the spectacular scissor kick, but it's off target. Carlos Vela urgently needs to get back and help his full back, or this could be a long night.
Goal! Anderlecht 0-1 PSG (Zlatan Ibrahimovic, 17)
20:02: A collector's item, a stray pass by Carrick gives Sociedad a chance to break with Griezmann but Evans nips across to cut it out and clear the danger.
20:00: Rooney draws a good save out of Claudio Bravo, connecting on the volley from a cross from Rafael who was easily found by Valencia. The England man may have been in two minds whether to strike it or head it, but his guided effort is straight at the Sociedad 'keeper.
19:58: Rooney, who has started splendidly, assumes control of a free kick on the edge of the penalty area but his effort hits the wall. Sociedad's defence still hasn't settled down.
Goal! Galatasaray 1-0 Copenhagen (Melo)
19:55: Real Madrid are also ahead early in thanks to Ronaldo. Di Maria plays in a brilliant reverse pass to Ronaldo, who calmly rounds Buffon to slot home from a tight angle.
19:52: Sociedad all over the place at the minute and United are close to making it two. Kagawa swings in inviting ball from the left but Hernandez can't sort his feet out in time.
Goal! Real Madrid 1-0 Juventus (Cristiano Ronaldo, 4)
19:47: What a start for United! Wayne Rooney brilliantly wriggles his way into the box from the left, beating Sociedad defenders with neat nutmegs en route. He hits a curling effort that strikes the inside of the post and the ball falls in the six yard box and bounces off Martinez into the empty net.
Goal! Manchester United 1-0 Real Sociedad (Own goal, 2)
19:45: Just about to get underway at Old Trafford.
19:32: Earlier today in the UEFA Youth League, Manchester United lost 1-0 to Real Sociedad while Manchester City picked up a 1-1 draw at CSKA Moscow. Arsenal take on Borussia Dortmund at 8pm (GMT) this evening.
19:17: Real Sociedad have endured a rather slow start to their campaign sitting 12th in La Liga but come in tonight fresh from a win over Valencia at the weekend - albeit just their second of the season.
19:13: Manchester United will give a first trial to their Old Trafford singing section tonight and David Moyes will need it after the weekend's disappointment. Kagawa and Hernandez are given starting roles but Van Persie is left out, with the toe injury he picked up on international duty the reason behind his absence. 39-year-old Ryan Giggs starts in centre midfield.
19:10: Gareth Bale left on the bench tonight for Real's tie at home to Juventus. Former United men Paul Pogba and Carlos Tevez start for the Bianconeri.
Line ups: Real Madrid v Juventus
Real Madrid: Casillas, Pepe, Ramos, Khedira, Ronaldo, Benzema, Marcelo, Arbeloa, Modric, Di María, Illarra
Juventus: Buffon, Caceres, Barzagli, Ogbonna, Chiellini, Vidal, Pirlo, Pogba, Marchisio, Tevez, Llorente
19:07: "I told the ref. I think it was unbelievable and very sad. We want to stop that. I think Uefa have to do a lot to try to stop it. Maybe close the stadium for a couple of games. As an African player, it is always sad when you hear something like that." - Yaya Toure when asked about racist chanting from CSKA fans during the game.
19:04: Robin van Persie is not in the Manchester United squad for tonight's game with Javier Hernandez given a rare start up front. Adnan Januzaj starts the game on the bench.
Line ups: Manchester United v Real Sociedad
Man Utd: De Gea; Rafael, Jones, Evans, Evra; Valencia, Carrick, Giggs, Kagawa; Rooney, Hernandez
Subs: Lindegaard, Buttner, Smalling, Fellaini, Nani, Young, Januzaj
Real Sociedad: Bravo, Martinez, Mikel, Inigo, dl Bella, Bergara, Zurutuza, Prieto, Vela, Seferovic, Griezmann
18:56: City certainly didn't make things easy for themselves, but they have taken all three points on a tricky evening in Russia. Despite a first half performances marred by defensive uncertainty, Sergio Aguero's instinctive finishing ensured the cracks were covered up, for tonight anyway.
Pellegrini's side should have made life easier for themselves but failed to increase their lead and were handed a large slice of luck when the referee ruled out Musa's spectacular strike. Inevitably, CSKA threatened right at the death but a fine stop from Joe Hart in the dying seconds ensured City left with a win.
Full Time: CSKA Moscow 1-2 Manchester City ( Zoran Tosic, 32, Sergio Aguero, 34, 42)
18:51: What a stop by Hart! Right at the death with CSKA pushing for an equaliser, Honda is found completely unmarked yards off the right hand post The Japan international fires a powerful effort on goal, but Hart makes himself big and keeps it out. The referee looks at his watch and blows the final whistle.
18:50: Three minutes of time added on. Musa picks up a wayard pass from Zabaleta and bursts down the left but with not many options ahead of the CSKA man, Clichy cleans up.
18:47: Dzeko should have perhaps wrapped it up there. Navas finds space on the right - as he has done with ease since swapping wings - and whips in a great ball. Dzeko edges ahead of his man and gets a foot to the cross but manages to divert it wide. Aguero comes off in the aftermath, replaced by Gael Clichy.
18:44: Musa glides in from the right, evading two underwhelming challenges from City defenders, one of which inevitably came from Garcia, but his poked effort is comfortably saved by Hart.
18:41: Musa fires in a wonderfully struck effort to seemingly level the game, but for a second time this evening, a goal is ruled out. Honda lofts in a free kick that is only half cleared into the path of Musa who lashes a powerful effort into the top of the net. The referee isn't having it, however, judging a high foot that nearly conencted with Toure's head as reason enough to rule it out. Generous.
18:38: Tosic has comfortably been CSKA's best player this evening. Hasn't been troubled by the surface beneath him, gliding over the turf with ease to trouble City's defence. He only made two appearances for United before leaving just a year later, but has given City a number of problems tonight.
18:34: Tosic picks the ball up and embarks on an incisive run through City's defence, beating three men with ease. The former United man's meek shot is blocked however and Honda's resulting effort is well blocked by Nastasic.
18:32: Honda swings in a free kick that eventually falls to Tosic, who shapes up to strike from 25 yards out. His effort bobbles harmlessly out for a goal kick.
18:29: Edin Dzeko comes on, replacing Negredo.
18:27: Musa goes down appealing for a penalty, but, in what has been a rariety tonight, Garcia dealt well under pressure to shephard the ball out of danger. Musa booked for his pointless protests.
18:25: Kolorov thumps a hard cross in from the left into the path of Aguero but the Argentine can't strech far enough to make a connection. Silva is on hand behind him, but Aguero's lunge throws his teammate off, and the former Valencia man miss-hits his effort towards a grateful Akinfeev.
18:22: Navas attempts to wiggle his way through a bank of CSKA defenders but loses possession, setting the home side up for another counter attack lead by Milanov. Toure clips him and is rightfully shown a yellow card. Negredo is back to, somehwat uncomfortably, nod the ball out of danger.
18:17: Navas is taken down by Musa on the edsge of the penalty area to give City another chance from a free kick. Silva opts to cross this time which CSKA eventually clear.
18:12: Ignashevich booked for (somehow) body checking Toure, who was looking to pick up a one-two with Aguero. Kolorov whips the resulting free kick wide and proceedes to concede a free kick of his own after taking down Tosic.
18:08: Moments after Toure has a powerful header saved by Akinfeev, CSKA call to the referee for a penalty. Doumbia again bullies his way into the box, easily shrugging off Garcia at the byline but is felled by the former Benfica man. The striker looked to have gone down easy, but there was contact. May have had a case.
18:06: City look to have made it 3-1, but it's ruled out. Silva and Zabaleta, who have caused problems down the right all night, combine and the Argentine beautifully backheels the ball into the path of Navas who crossed it into the six yard area. Negredo is on the end of it, but it judged to have handled it, earning a yellow card in the process.
18:04: And we are back underway in Russia.
17:52: An enjoyable first half where two headed goals from Sergio Aguero - six from seven games for the striker - have spared City blushes after an uncomfortable first half for his teammates in defence. Every time CSKA launch a ball forward or embark on a counter attack Garcia and Nastasic are panic-stricken. The presence of Joleon Lescott back there would not go amiss with Honda, Tosic and the rapid Doumbia threatening to inflict more European woe on Pellegrini. City have been efficient at one end of the pitch, but will seriously need to address their defensive concerns in the second half.
Half time - CSKA Moscow 1-2 Manchester City ( Zoran Tosic, 32, Sergio Aguero, 34, 42)
17:49: Silva nearly curls a beautiful free kick effort over the wall and into the back of the net but Akinfeev, perhaps aware that there may be a few cameras on him, saves rather comfortably in the end. Half time.
17:47: Although they are causing problems of their own on the counter, CSKA are being picked off by City have regained a bit of their confidence following Aguero's goal. But comically, Doumbia capitalises on more uncertain defending in the box but take the ball under full control and fires waywardly.
17:44: Who needs to defend when you have Aguero? City take the lead after the Argentine bravely leaps onto a header to connect to a terrific dinked cross from his strike partner Negredo and nod in from six yards.
Goal! CSKA Moscow 1-2 Manchester City (Sergio Aguero, 42)
17:40: City are all over the place defensively. You'd be forgiven for assuming Nastasic and Garcia have never been in the same room before, never mind the same pitch. Any long ball or swift counter attack is causing the Premier League side problems.
17:36: In no time at all, City are ahead. Kolarov finds Silva and the Spaniard marauds into the box before crossing to Aguero. Positioned on the penalty spot, the Argentine turns and sides the ball into the net. All cliches about being your most vunerable when you score are belted out in unison.
Goal! CKSA Moscow 1-1 Manchester City (Sergio Aguero, 33)
17:34: CKSA score! After launching another dangerous counter attack where City's frailties are exposed, the Russians take the lead, but it's a big boot up the pitch this time that creates it. A big clearance from Akinfeev falls to Honda, hardly CSKA's biggest player, who knocks the ball onto Tosic. The former Manchester United man clips the ball over Hart into the empty net. Dreadful from Garcia, who lost his battle with Honda which created the opening.
Goal! CSKA Moscow 1-0 Manchester City (Zoran Tosic, 31)
17:32: Negredo fires directly into the grateful arms of Akinfeev after receiving the ball from Silva. The Spaniard did well to keep it down given the state of the pitch, but couldn't get any direction on it.
17:30: Jesus Navas has swapped over to the left hand side of midfield, hoping for more luck having largely been stranded out on the wing.
17:26: CSKA launch another ball forward that has City's defence scampering back, and Joe Hart scampering far too eagerly off his line. Honda picks it up and tries to work an opening but City regroup. A lot of space between City's midfield and defence, slight worry with Honda's guile and Doumbia's speed.
17:22: City controlling and coping well but CSKA have shown signs of catching their opponents on the break. The raw pace of Doumbia could be a problem; Nastasic has admirably dealt with his threat so far, but signs of the powerful striker troubling Garcia suggests City's back three will have to remain alert to the Ivorian's runs.
17:17: Dangerous from CSKA. Tosic plays a hopeful ball up the pitch and Doumbia easily shrugs off the challenge of Garcia. The striker menacingly picks up the ball and appears to be away but his first touch isn't great, allowing Nastic to make a crucial interception.
17:15: City counter dangerously, Negredo can't reach a header but its collected by Zabaleta who swings in a dangerous ball from the right which finds Aguero, but the Argentine's attempted scissor kick isn't up to scratch, and the ball rolls out for a goal kick.
17:13: CSKA enjoy their first spell of possession as Honda and Doumbia combine nicely before the Japan international plays through Tosic on the left. The winger's cross hits the side netting, but a promising move from the home side.
17:10: As expected, City enjoying early possession. At first glance, the pitch doesn't appear to look too bad, but the threatening bobbles the ball takes over the surface suggests otherwise. Silva whips in a cross from the left, appeals for a hand ball, then a corner, but is ignored on both shouts.
17:05: Close for Yaya Toure. Aguero meets a corner and nods the ball onto the far post. The Ivorian attempts to get onto the end but he's centremeters away and it trickles out for a goal kick.
17:02: Hart forced to scamper off his line in the opening two minutes to punt a searching through ball out into the stands. Under scrutiny, awful pitch, tricky away tie, surely that's a perfect recipe for a more tabloid ammunition?
17:00: And we are underway in Moscow.
16:58: Pellegrini opting for a back three tonight of Zabaleta, Nastasic and Kolorav behind an imposing midfield three of Yaya Toure, Fernandinho and Garcia.
16:55: Teams heading out onto the fairly awful turf of the Khimki Arena.
16:50: City's main threat tonight comes in the form of Keisuke Honda, whose time at the club may be coming to a conclusion as he continues to be heavily linked with AC Milan. Former Manchester United misfit Zoran Tosic occupies the left hand side of the home attack.
16:45: Looks like Javi Garcia has once again been asked to fill in for Vincent Kompany at the heart of defence. Richards and Lescott are other defensive options left on the bench.
Line Ups
CSKA Moscow: Akinfeev, Ignashevich, Nabakin, V Berezutski, Schennikov, Wernbloom, Honda, St Zuber, Tosic, Milanov, Doumbia
Subs: Chepchugov, Vasin, A. Berezutski, Gonzalez, Rahimic, Musa, Vitinho
Manchester City: Hart, Zabaleta, Garcia, Nastasic, Kolarov, Navas, Fernandinho, Yaya Toure, Silva, Aguero, Negredo
Subs: Pantilimon, Richards, Lescott, Clichy, Nasri, Dzeko, Jovetic
16:40: After being well and truly humbled by the Champions League holders Bayern Munich a fortnight ago, City cannot afford to drop points in Russia with a trip to the Allianz Arena still on the agenda. CSKA present a very different challenge however, having just won win against an English side to their name in the competition, a win over Arsenal seven years ago.
16:33: Team news: Pellegrini makes three changes to the City side that beat West Ham United 3-1 on Saturday. Pablo Zabaleta, Aleksandar Kolarov and Jesus Navas all return to the starting XI.
16:32: The build up to City's game in Russia has been focused on the state of CSKA's pitch which is bad enough to have prompted an irate outburst from their perennially cool manager Manuel Pellegrini. "It's unbelievable the most important cup competition in the world is allowed to be played on this pitch," said the City boss. "I think the people from UEFA that viewed the pitch mustn't give the authorisation to play here."
16:30: Good evening and welcome to IB Times UK's LIVE coverage of Wednesday's Champions League ties. Manchester City take on CSKA Moscow in Russia in the evening's early kick off at 5pm (GMT) while Manchester United welcome Real Sociedad to Old Trafford later on.
Elsewhere in Europe, Real Madrid host Juventus in the night's box office game.