The dismantling of the Chelsea side that won the Champions League looks set to continue in the summer with the news that Ashley Cole and Frank Lampard are both expected to leave at the end of the season.
When quizzed on whether the two England internationals would leave at the end of the season at his first press conference as Chelsea manager, Rafa Benitez said: "I think so. I don't have all the information and it's not fair to tell me I'm only here for seven months and then expect me to have an influence at the club over the next two or three years, but I think that's the case at the moment."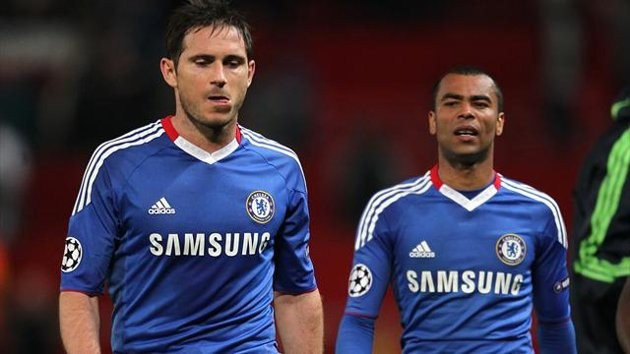 Didier Drogba, Salomon Kalou and Jose Bosingwa have already departed, while Florent Malouda has been relegated to training with the reserves as he sees out the remaining time on his Chelsea contract.
It is clear that Roman Abramovich is prepared to usher in a new era at Chelsea as he attempts to deliver the attractive attacking football that he so desires. But what of Cole and Lampard, two of the club's standout performers who have contributed hugely to the success delivered under the Russian oligarch.
Paris Saint-Germain appear to be the frontrunners to sign Cole, especially if you follow their official twitter account, and it seems a decent fit for a player who is still regarded by many as the best left-back in world football.
PSG boss Carlo Ancelotti knows the player well from his time at Chelsea, while current left-back Maxwell is yet to convince after arriving in the summer from Barcelona.
With Cole on a free at the end of the season, PSG can use their Qatari riches to offer the 31-year-old a substantial weekly wage that would certainly be enticing. The French club will be competing for the title this season and it seems likely that they will once again be in the Champions League.
Cole would also be reunited with former Chelsea defender Alex who has become a central figure in the PSG defence since moving last January.
It all seems a logical fit but the future of Lampard seems more unclear. The 34-year-old has been with the club for more than a decade, making some 572 appearances and scoring 189 goals, resulting in him being the third highest scorer in the club's history.
Despite coming through the West Ham academy and spending four seasons in the first team, it is hard to associate Lampard with a club other than Chelsea.
That is not to say that he will not want to extend his playing career. Lampard has always been one of the most dedicated professionals at Chelsea, looking after his body and working tirelessly in training to constantly improve.
He still holds the Premier League record for most consecutive appearances for an outfield player with a staggering 164, and last season played some part in 49 games in all competitions. It is clear he still has plenty to offer and the fact that he will be available on a free makes him an even more enticing prospect.
One club which may take advantage of Lampard's availability is MLS outfit LA Galaxy. With current star David Beckham announcing that he is leaving the club, they will want another big name to replace him.
Lampard would certainly fit the remit, with 93 England caps and a legacy of winning everything available to him in club football, Galaxy would almost certainly love to entice him to America.
Though it would not just be Galaxy that would be interested, as MLS commissioner Don Garber previously stated that any side in America would be interested in signing Lampard.
"Frank Lampard's a great player. He has a great history with the sport," said Garber. "If he decides he wants to play in Major League Soccer, I'm sure any club would be happy to have him on their roster."
Offers from China are also bound to arise, with two his former Chelsea team-mates Didier Drogba and Nicolas Anelka having already made the switch, while there may also be bids from the rejuvenated A League which now features Emile Heskey and Allesandro Del Piero.
It is unlikely that Lampard would want to play for another English club, with such strong ties to Chelsea, so it seems a move abroad is a more likely option. What is certain is that the midfielder is sure to be a success no matter where he decides to go.