Roberto Di Matteo insists he's not concerned that Pep Guardiola is now available for the Chelsea job, after the Barcelona manager announced today he would be leaving the Catalan giants in the summer.
Di Matteo has taken the Blues to a Champions League and FA Cup final this season, and though the side looked to be falling down the table at the start of the year, they are now pushing for fourth spot in the league and beat the current Champions League trophy holders on Tuesday night with 10 men.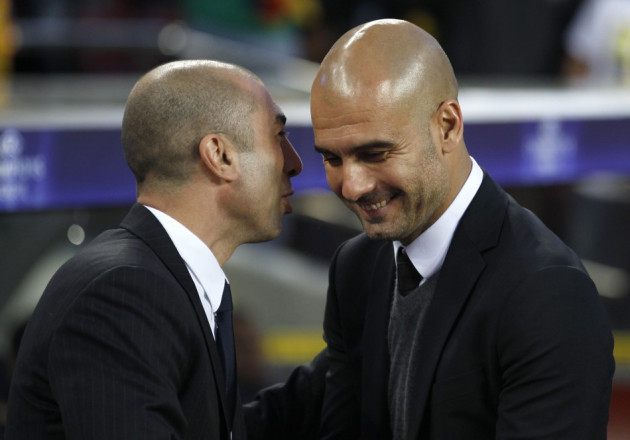 But with Giardiola quitting Barcelona, speculation will no doubt be rife that he is the leading candidate for the permanent Chelsea job when the season comes to an end.
"The demands have been great and I have not been able to rest much. I have to recover and the only way I can do that is by distancing myself," Guardiola said in an explosive press conference today.
"Otherwise, we would have ended up damaging each other.
"I know that I'm leaving the best place to work in. I am very satisfied with the result we have achieved. I have had the great privilege of coaching fantastic players. I want to thank them."
But Di Matteo, looking relaxed at his press conference in preparation for the QPR match-up on Sunday, said that he's not concerned with his future now that Guardiola is available.
"He knows what he does, he's a fantastic man, he's had such tremendous success, and he's decided what's best for him and his career and his family," he said.
"He's a role model as a coach for every manager, what he's achieved in such a short period of time, I'm not sure anyone can repeat that.
"Nothing has changed from my point of view, I'm still happy to get this club to the end of the season, and then the club will make a decision on what is best for the club."
It's the second summer in a row that Roman Abramovich will be looking for another manager, after Andre Villas-Boas was sacked after a run of poor results across the board and reports of player unrest.
But Di Matteo is ignoring the speculation, and says he is just looking at each game as it comes, rather than concentrating on whether he has a long term future as manager of Chelsea football club.
"We take it game by game as we've always done, and we will try win on Sunday to keep our hopes alive to finish top finish," he explained. "Then we will take next game.
"I'm very relaxed about it all. It's irrelevant at this point of the season, what's important is that the spirit of the players this season is good, we have to keep positive and see what happens."
Di Matteo's calming influence resounded through the press room, and has also clearly had a positive effect on the Chelsea squad. And the manager believes that the achievements the side have already made this year show just how far they can go in the face of adversity.
"I think it's amazing that his group of players have responded so well to the difficulties we've faced this season," he said.
"We're looking to finish fourth in the league and we're playing two finals, so ultimately we have to finish this season successfully."
And if Chelsea can win both the Champions League and FA Cup trophies, it will certainly be a successful campaign for the side which over Christmas appeared to have lost all hope of achieving glory this season.