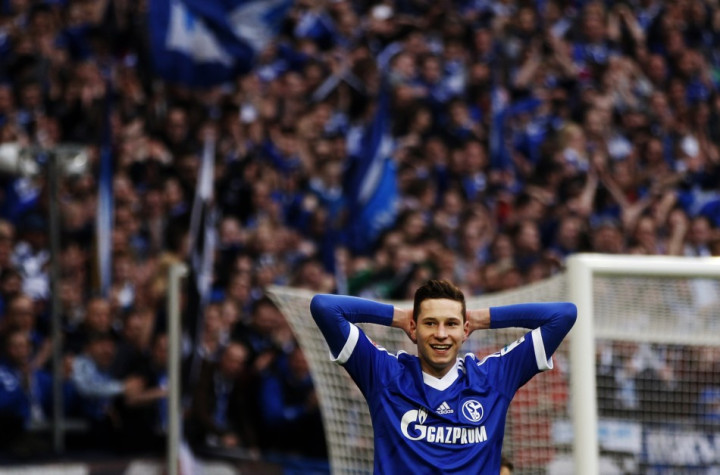 Julian Draxler has admitted that it would be a dream come true to play for Chelsea or Manchester United, but the Schalke youngster insists he will never join domestic rivals Borussia Dortmund.
Draxler signed a new deal with Schalke towards the end of last season keeping him at the club until 2017, ending rumours that he might be set for a move to the likes of Bayern Munich, Dortmund or Arsenal.
Dortmund and Schalke have a particularly bitter rivalry and Draxler insists that although he could see himself developing with the Champions League finalists, he won't be moving there under any circumstances in this transfer window or next summer.
"In purely sporting terms, I would have fit into the Dortmund team," he said, according to Bild. "I don't find it offensive that BVB enquired about me. We did not do anything different when we got Felipe Santana from Dortmund.
"But I can promise everyone that I will not play for Borussia Dortmund."
At just 19 years of age Draxler's value has significantly risen thanks to the teen shining alongside Schalke's senior stars, earning him the chance to impress in the German national team.
However, the youngster has left the door open to a possible move away from the Bundesliga club next summer, and has pinpointed some of the world's best clubs as a possible future destination.
"I have knocked back a lot of money," he explained. "But it's also not that I have to live on bread and water.
"What boy does not dream of playing for a club like Real, Barca, Chelsea or Manchester United."
Draxler would no doubt be an improvement on any squad across Europe, with the midfielder touted for big things in the future and coming at a more than reasonable price of around £15m, though Schalke have insisted they will attempt to get top dollar for the star should he ask to leave.