Chelsea manager Rafael Benitez ruefully accepts he may never win over the club's fans, as a considerable section of the Blues' supporters continue their protests against the Spaniard.
The former Liverpool manager seems resigned to his fate, accepting that his time at Anfield will always work against him in west London.
"I cannot change the perception people have of me because I was successful at Liverpool against Chelsea," Benitez told the Daily Mirror, "I thought when I came that if I carried on winning games here, it would get easier."
However things have not gotten easier for the former Valencia and Inter Milan coach, perhaps because his team has not been getting positive results consistently.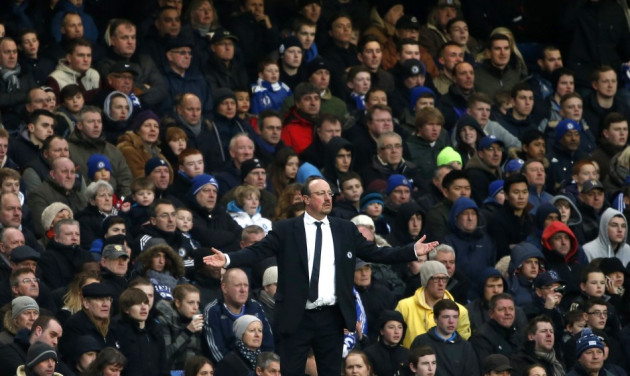 "But if you cannot win all the time, I understand that ­sometimes the fans get a little bit frustrated. And I am frustrated too," Benitez concedes, "At any club, whatever its circumstances, there are always going to be people who do not agree with you. In football in England, you have 60 million managers. In Spain, there are 40 million managers. Everyone has an opinion."
The manager claims the nature of modern football, specifically fans' presence on the social networking sites, has worked against him by allowing negative perceptions to permeate through the Chelsea fan base. However, he accepts this inevitability and admits it reflects a change in culture which football can do little about.
"You have to accept that this is normal. Especially now, in this society, everything is so quick," said Benitez, "You have Twitter and Facebook and you can put out a message and in one second millions of people are reading the same message."
The message has been simple: 'Benitez out', as the Spaniard, fairly or unfairly, represents a focal point for fan resentment. When asked whether the booing has had an effect on his team's performance, Benitez asserts it has done the opposite.
"I think the players are enjoying the training we are doing and the way we are playing," he continued, "They want to do well on the pitch because they are enjoying what they are doing so when they hear the booing, they want to do even better to prove it is working."
Despite the trials faced in west London, the Spaniard maintains that his decision to come to Chelsea was the right one.
"I don't regret coming here at all. I knew Chelsea could be a difficult challenge but at the same time you had the potential to do things in the way you wanted to do things," Benitez added, "As soon as I realised I had the opportunity, I knew there would be challenges but I thought I could fight for trophies."
That is what it boils down to, winning trophies, and Benitez has stuck by this line of reasoning whenever asked the question.
"That is why I came and that is why I am here," the Chelsea boss concluded.