Miami Marlins manager Ozzie Guillen recently shared an interesting detail about the relationship between sport and the media.
The former Chicago White Sox shortstop - and the first Latino manager in major league history to win a World Series - has a saying for the type of media-friendly apology club's use in the wake of an embarrassing episode: eyewash.
You're not really doing anything important - you're just pretending to do something, he said. You just want other people to look at you.
Banning alcohol in the clubhouse, as the Boston Red Sox did earlier this year, is just eyewash. "They will drink somewhere, somehow," Guillen told the New Yorker.
An astute observation. And one that demonstrates Didier Drogba's theatrics against Barcelona on Wednesday night was part of a larger gameplan, a hefty gamble taken by Chelsea interim manager Roberto Di Matteo to stymy the free-flowing, tiki-taka of Lionel Messi et al, and not attempt to match the carousel.
The Chelsea forward was at his cavalier best throughout Chelsea's Champions League semi-final first-leg victory at Stamford Bridge. His goal just before half-time gave the Blues a crucial lead to take to the Nou Camp for the return leg, but his main impact was to unleash the full range of time-wasting tactics that disrupted Barcelona's rhythmic passing and bought valuable time for Di Matteo's side.
Drogba has drawn widespread criticism for play-acting throughout the 1-0 victory, after he repeatedly went to ground at the merest hint of contact from the Barcelona defence. But such tactics proved remarkably effective against the defending European champions, who struggled to convert their usual dominance into goals. The Catalans outplayed Chelsea for much of the first-half but failed to translate their overwhelming possession, as Cesc Fabregas and Alexis Sanchez spurned gilt-edge opportunities.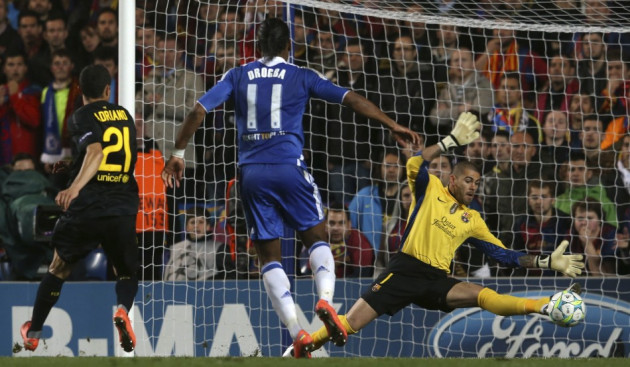 Collectively, Barcelona's profligacy began to mount and Pep Guardiola's side appeared weighed down by the collective air of assumption that accompanies their European endeavours. How could arguably the best football side of the last 50 years not emerge triumphant? Surely they had, in Xavi, Messi and Fabregas, the keys to unlock a stubborn but brittle Chelsea back-line? Apparently not, but the source of Barca's frustration was the confusion wrought by Chelsea's resistance, rather than an inability to create chances.
Former Arsenal defender Martin Keown believes Didier Drogba's gamesmanship was at the heart of Chelsea's victory, diverting Barcelona's attention and disrupting their normal gameplan. But Keown cautioned that similar tactics are unlikely to work in the return leg at the Nou Camp.
"It is infuriating to see a sportsman behave in that manner," Keown told the Daily Mail. It's not particularly sporting but it is not exclusive to football. You see people in snooker or tennis trying to slow opponents down and that is exactly what Drogba was doing.
"He was trying to take the sting out of Barcelona. You have to slow them down because they play at such pace and with such confidence."
"By taking the pace out of the game it meant they weren't as lethal in front of goal as they normally are. Chelsea scored because they were prepared to break with pace and Drogba didn't fluff his lines."
You just want someone to look at you. So that, in their distracted moment, their eyes are taken off the game unfolding around you. A split second of indecision, overcomplicating what becomes second nature after a decade spent at La Masia; so engrained in every sinew, every mental synapse that the extraordinary becomes commonplace, passé.
Except, at Stamford Bridge on Wednesday night, it didn't. Barcelona were beaten for only the third time this season, beaten but not defeated, and the return leg on Tuesday night will provide a telling examination of exactly how far this Chelsea side have progressed since Andre Villas-Boas' departure at the beginning of March.
Still, it's worth considering Guillen's advice. It may not be enough to demonstrate stubborn resistance in the face of a hostile Nou Camp crowd. To calm the jangling nerves of the Chelsea back-line there's a good deal more joy to be had in distracting the opposition as well.