Real Madrid striker Gonzalo Higuain has created further confusion over his professional future, after a report by Spanish publication AS quotes the Argentine international as revealing interest from Chelsea.
The 25-year-old striker was thought to have completed a move to Arsenal this summer, following a club record £23m bid for his services and a £100,000 per week contract, according to the Guardian.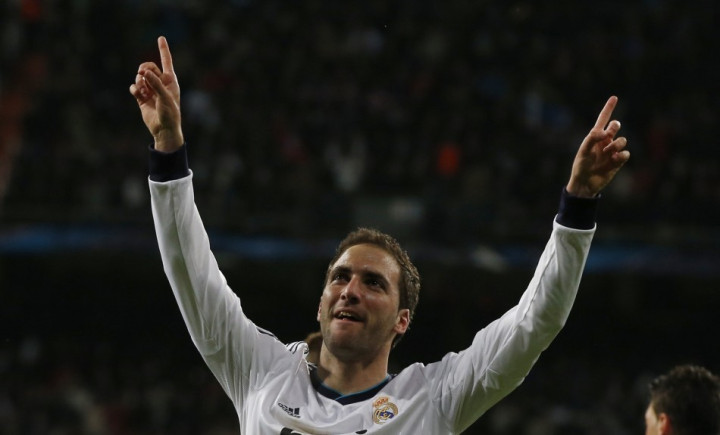 However, Arsene Wenger appeared to delay the transfer once it was clear Liverpool striker Luis Suarez could become available. The Guardian last week reported on a possible £35m offer for the Uruguayan.
It now appears delaying Higuain's transfer could prove to be a mistake, particularly since both London clubs [Chelsea and Arsenal] must now also contend with Serie A club Napoli for the player.
In what is already a complicated race for the Santiago Bernabeu star, AS' report quotes Higuain telling close friends that "Mourinho wants me there [Stamford Bridge]".
And according to the Express, Napoli president Aurelio De Laurentiis has told fans, on Twitter, he is targeting both Higuain and Internacional striker Leandro Damiao, to replace Paris St Germain's (PSG) new signing, Edinson Cavani.
"Now, we have Chelsea involved, as well as Arsenal," De Laurentiis explained, adding, "It's true we're negotiation for Gonzalo Higuain and Leandro Damiao."
All three clubs, however, musts realise Madrid are unwilling to release Higuain unless their valuation is met. Florentino Perez has already revealed he will not accept a bargain fee for the Argentine, who is contracted to the club till 2016.
And so it has transpired, with Madrid demanding €37m for the player, a figure that has unsettled Arsenal chiefs, who believed they had an agreement for a far lower fee. The concern for Gunners' fans now is that while Wenger may baulk at the fee, neither Chelsea nor Napoli are likely to.
The one point of solace for Arsenal fans could well be that despite Higuain's statements, Mourinho seems more interested in signing Manchester United's Wayne Rooney. The England international's future has come under severe scrutiny since the apparent breakdown of his relationship with the club and new manger David Moyes.
And the former Madrid boss is eager to unsettle his old rivals further by doing to them what Sir Alex Ferguson did to Arsenal last summer - stealing a key player. While Rooney may not be quite as vital to the Old Trafford side, based on last season, as Robin van Persie was to the Gunners, the loss of the former Everton man to an arch-rival may not be the best of starts to Moyes' career with the Red Devils.
The Portuguese has already admitted Rooney is his primary target, meaning Higuain will likely be a back-up, in case he fails to cast a spell over the Premier League champions. As back-ups go though, signing Gonzalo Higuain cannot be a bad move.