Chelsea have been dealt a blow in their pursuit of Real Madrid star Gonzalo Higuain, with his father revealing he plans to stay with the La Liga giants for the long term future.
Higuain has made 43 appearances for Real Madrid so far this season, and the 24 year old has contributed 24 goals to the club as they fight to take the Spanish title off Barcelona.
And as a result, Chelsea have reportedly been monitoring the star, and thought they may have an opportunity to tempt him into a move if Karim Benzema continued to be given opportunities ahead for the former River Plate man.
But Jorge Higuain insists that his son is happy in Madrid, telling Telam: "There is nothing in [the rumours of a move].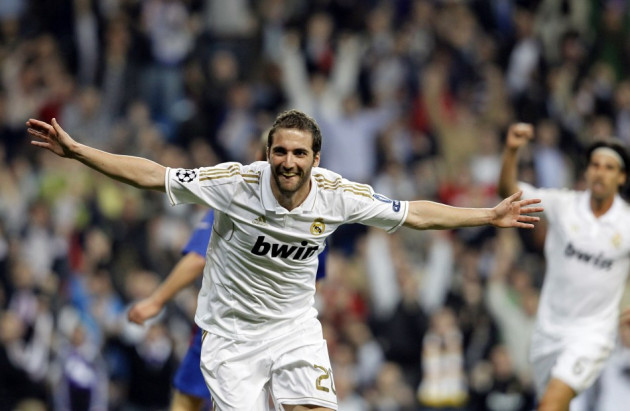 Gonzalo Higuain is a target for Chelsea.
"He has four years left on his contract and they love him very much."
Transfer speculation surrounding Chelsea looks likely to take a very familiar flavour this summer, with the club on the lookout yet again for a manager as well as more new faces.
Andre Villas-Boas had just 10 months to stamp his signature on the side before he was sacked as a result of lacklustre results, and Chelsea have flourished since the young manager left, fighting hard for a top four spot and moving through to the semi-final in the Champions League.
And now the likes of Jose Mourinho and Pep Guardiola are being mentioned as potential replacements, while Roberto di Matteo continues to show his managerial skills are in line with what the Blues need right now.
Should Mourinho end up making a return to Stamford Bridge, the Portuguese tactician will no doubt be hoping to bring some of his own players with him, though Higuain may not be a preferred target, with the Argentine currently receiving limited game time at Madrid.