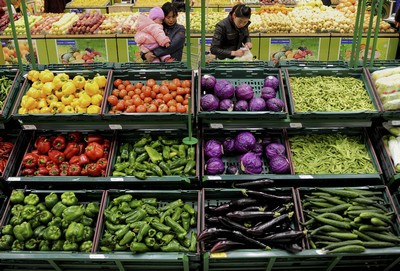 China's inflation rate has increased to a seven-month high in December as the country's food prices shot up due to adverse weather conditions.
Inflation, as measured by the consumer price index (CPI), rose 2.5 percent in December from a year earlier, according to the National Bureau of Statistics. In November, the index rose 2 percent.
Economists polled by Bloomberg were expecting an increase of 2.3 percent on average.
Chinese consumers have suffered from higher vegetable and pork prices due to the nation's coldest winter in 28 years, which is expected to keep food prices at high levels as the country is nearing the Spring Festival, the New Year period.
Food prices, which have a nearly one-third weighting in the index, rose 4.2 percent in December with fresh vegetable prices rising 14.8 percent and the price of eggs climbing 8.7 percent from the year-ago month.
Meanwhile, China's producer price index, which measures wholesale inflation, fell to 1.9 percent in December from 2.2 percent in November.
The higher rates are expected to result in the People's Bank of China (PBOC) holding the anticipated interest rate cuts in the next few months in order to help boost the ongoing recovery of the economy.
During the first nine months of 2012, China's economy experienced a slowdown, with GDP growth declining to a three-year low of 7.4 percent in the third quarter.
Nevertheless, various economic data for December, including manufacturing, broader industrial output, retail sales, new-home prices and exports, revived optimism among economists for an accelerated growth in the fourth quarter.
On Thursday, China reported a trade surplus of $31.6bn for December, up from $19.6bn in November, due to a 14.1 percent increase in exports.
On an annual basis, inflation slowed to 2.6 percent in 2012, down from the government target of 4 percent and the reported 5.4 percent in 2011.
China's CPI will likely re-surge in the second half of this year, further aided by a cyclical economic upturn, according to ANZ Research.
"Rising inflation expectations have put the PBOC between a rock and hard place. It is difficult for it to ease monetary policy now, but the current reverse repo operations have become increasingly unsustainable, and even disruptive to short-term market interests," said Li-Gang Liu, chief economist at ANZ Research.
"It is hoped that large capital inflows will help reduce the magnitude of reverse repo operations and the PBOC could use the opportunity to switch to a more effective monetary operation mode."