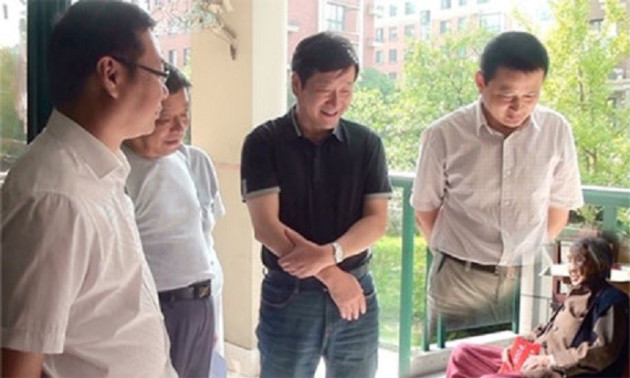 A failed Photoshop manipulation by Chinese government officials has reduced the regime's powerful propaganda department to a laughing stock.
An image of a group of smiling party officials with a pensioner is going viral for depicting her as a tiny underling surrounded by four grinning giants from the Communist party.
In the image, an elderly woman called Cheng Yanchun is seen with the vice-mayor of Anhui province and three lackeys. She appears drastically shrunken and one of the officials looks like a ghost with no legs.
What was intended to be a positive message of members of the regime showing their concern for ordinary citizens instead ended up looking like a scene from a Far Eastern version of classic TV show, Land of the Giants.
The cack-handed case of Photoshop image tampering generated so many howls of derision from web users that embarrassed party bosses threatened a crackdown to cut the mockery.
Everyone knows a propagandist's job is to puff up their masters' image but this was almost certainly too much. One user said: "It truly portrays the social ecology: the image of officials is glorious, the people are small and humble. What a good [bit of] Photoshop; he is really talented."
The hapless propagandist who produced the image has been ordered to write a public self-criticism to take the heat off the ruling party.
A regime spokesman said: "Cheng was sitting on a chair on the balcony under the sun. The balcony space was very small and the camera lens could not cover the whole scene. When the employee of the municipal civil affairs department uploaded the photos he simply merged two shots."
"We express deep regret to internet users for its negative influence. We will learn from the experience to improve civil affairs work."