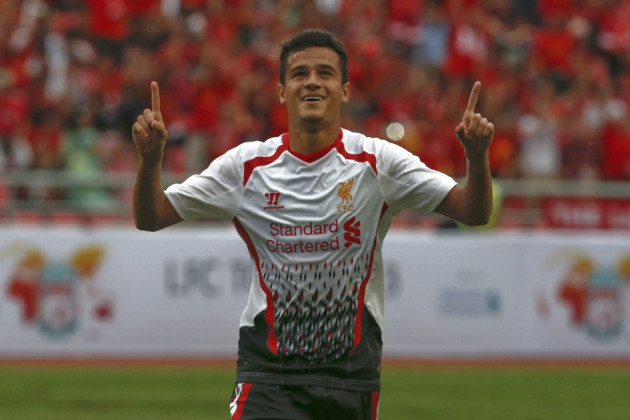 After Brendan Rodgers made the claim that Liverpool possesses the best number 10 in the Premier League in Brazilian playmaker Philippe Coutinho, IBTimes UK decided to look at the alternatives.
There is little doubt that Coutinho made a huge impact after joining Liverpool in January but the Premier league is awash with talented midfielders whose craft, guile and vision are truly a joy to behold.
There was a time when English football was devoid of such a player as manager's preferred the rigid 4-4-2 system but in recent seasons we have seen more and more teams utilise a player who occupies space between the opposition lines of defence and midfield.
In Italy he is referred to as the trequartista. In Argentina he is the enganche. In England, he is simply 'the man in the hole'. We may struggle for the terminology to describe such a player but we are certainly not devoid of the talent.
Arsenal now have three players who would be comfortable fulfilling the role. Jack Wilshere, Santi Cazorla and Mesut Ozil are all wonderfully technical footballers. Not only can they read the game, but they have the ability to execute in the most difficult of situations.
Their north London rivals Tottenham can also call upon their own creative genius in former Ajax star Christian Eriksen who has demonstrated in just two games that he can be a major asset in the final third.
Chelsea can call upon the Brazilian duo of Willian and Oscar, but it is Juan Mata that provides the true artistry. He effortlessly knits the play together and seems to have a picture in his mind of exactly where his teammates are at all times.
His fellow Spaniard David Silva offers the same touch of class for Manchester City, while over at United it is Shinji Kagawa that can provide a touch of class - unfortunately Manchester United don't seem to see it that way but Dortmund boss Jurgen Klopp would passionately argue the point.
In order to see the competition Liverpool's Coutinho is up against, and to see how well the aforementioned players performed, we looked at their records in terms of goals, assists, chances created and finally their pass accuracy.
The Brazilian only played 13 games for Liverpool but he scored three goals, had five assists, created 20 chances and had a pass accuracy of 74%. So let's see how others compared.
The stats on the players below all look at their performances in the Premier League last season.
| | | | | | |
| --- | --- | --- | --- | --- | --- |
| Team | Player | Goals | Assists | Chances | Pass Accuracy |
| Arsenal | Santi Cazorla | 12 | 11 | 95 | 87% |
| Chelsea | Juan Mata | 12 | 12 | 95 | 85% |
| Man City | David Silva | 4 | 8 | 103 | 85% |
| Man United | Shinji Kagawa | 6 | 3 | 19 | 90% |
| Newcastle | H. Ben Arfa | 4 | 2 | 23 | 81% |
We also looked at the stats for Eriksen from last season at Ajax and Ozil from his final season at Real Madrid.
| | | | | | |
| --- | --- | --- | --- | --- | --- |
| Team | Player | Goals | Assists | Chances | Pass Accuracy |
| Ajax | C. Eriksen | 10 | 7 | 138 | 85% |
| Real Madrid | Mesut Ozil | 9 | 13 | 92 | 86% |
Let us know who you think is the best number ten in the Premier League by tweeting us at @IBTimesUKSport