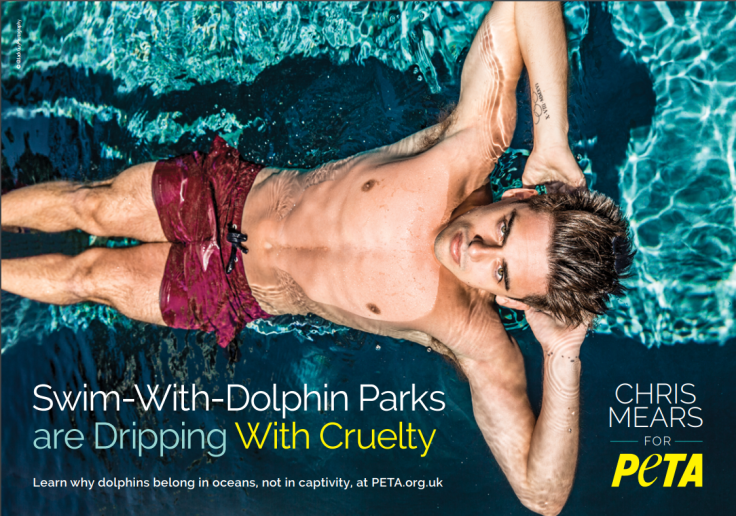 As festive travellers prepare to fly out for winter beach holidays, animal rights group Peta is launching its first ever campaign against swim-with-dolphin parks with Olympic diver Chris Mears as the face of the campaign.
The 24-year-old from Reading won Britain's first gold medal for diving in 2016 and is now making a splash in the organisation's newest campaign.
In the poster Mears is photographed in his trunks over the banner, "Swim-with-dolphin parks are dripping with cruelty."
The campaign was shot in Malibu by Jack Guy. In the accompanying video, Mears reveals that he swam with captive dolphins as a child while on holiday with his parents.
"We had absolutely no idea how these animals are treated," he says.
Peta said: "In the open ocean, dolphins swim up to 50 miles a day alongside their families and communicate over vast distances by sonar. In marine parks, they're forced to perform in pools filled with chemically treated water. Their sonar literally bounces off the walls, causing depression, ulcers, and early death."
According to World Travel Market research, 79 per cent of Britons do not like visiting attractions where animals are forced to perform.
While no dolphins have been held in captivity in the UK since the early 1990s, some British tourists continue to visit such attractions in Spain, the Caribbean, Florida, and California.
Peta, whose motto reads, in part, "Animals are not ours to use for entertainment", works with celebrities such as P!nk and Paul McCartney in its campaigns.
The dolphin campaign marks the first time Mears has worked with the Peta, which was founded by Ingrid Newkirk.