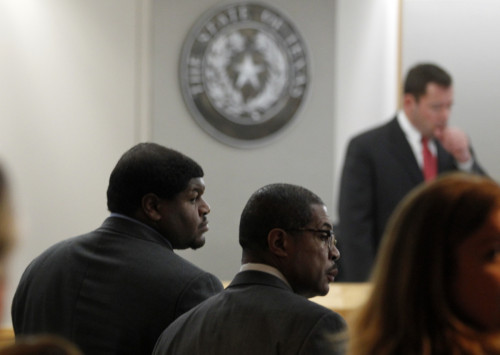 The campaign group Mothers Against Drunken Driving has said it is "shocked and appalled" at the 180-day sentence handed to former Dallas Cowboy player Josh Brent, who killed his friend and team-mate Jerry Brown in a car crash while over the limit.
Brent, 25, was found guilty of vehicular manslaughter on Wednesday, and at his sentencing hearing yesterday was also put on probation for 10 years and given a $10,000 fine.
Brent faced up to 20 years in jail as a maximum sentence.
After the sentencing, District Judge Robert Burns said: "Your actions bring shame to the city of Dallas.
"You are not the first Dallas Cowboy to kill someone with a vehicle, but I hope you're the last."
The family of Brown has forgiven Brent for the crash, but anti-drink-driving campaigners condemned the sentence as too lenient.
"This punishment sends the message that it's OK to drink and drive — but it's absolutely not," the statement from Mothers Against Drunken Driving said.
Brent and Brown were good friends as well as team-mates, and had played together at the University of Illinois.
On 8 December 2012, Brent lost control of his Mercedes in a Dallas suburb on the way home from a nightclub.
Officers found him attempting to drag his friend's body from the burning wreckage.
Brent was found to have been driving at 110mph when he crashed, and to have had blood alcohol levels almost twice the legal limit.
'This is almost like a poster child case for intoxication manslaughter,' prosecutor Heath Harris told jurors in his summing up.
Brent's team argued that he could not have consumed that much alcohol before the crash, and that the police tests must have been faulty.
Brown's mother, Stacey Jackson, appealed for leniency.
"He's still responsible, but you can't go on in life and hold a grudge. We all make mistakes and have to be forgiven. I'm sure that's what Jerry would have wanted," said Jackson.
Former defensive lineman Brent was put on leave by the Cowboys after the incident, and retired from the team in July.
The case is the latest in a series of off-field scandals involving Cowboys players.
In 2003, the Cowboys' Dwayne Goodrich was jailed for criminally negligent homicide following a hit-and-run crash.