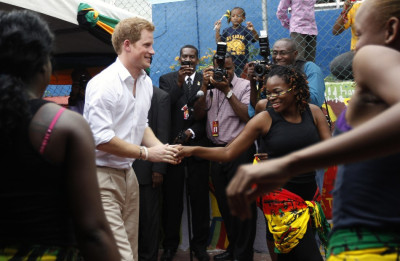 Prince Harry has continued to charm the world during his royal tour of the Caribbean by showing off some of his best dance moves.
The 27-year-old royal, who is currently on an official tour of the Caribbean as a representative the Queen, has already proved that he is a soldier with rhythm on his visits to Belize and Jamaica.
Harry forgot the crowd and let loose at a street party in Belize's capital of Belmopan, where more than 2,000 people had gathered, and at a community centre in the heart of Kingston, Jamaica, where he boogied to reggae classics.
The prince appeared relaxed and carefree as he melted the hearts of local beauties with his impressive dance steps, drank rum and joked with the huge crowds.
International Business Times UK takes a look at a few of Harry's best moves.